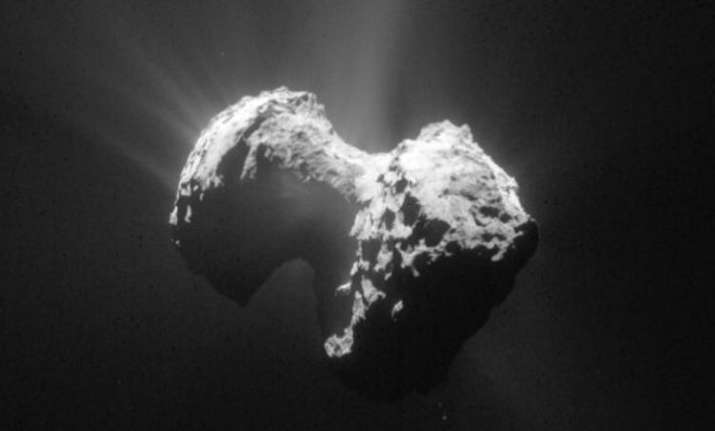 The European Space Agency is all set to crash its historical Rosetta spacecraft into a comet, two years after it began its probe in 2014.

 

The Rosetta mission will end with a controlled descent to the Comet 67P/Churyumov-Gerasimenko's surface at around 7:20 a.m. EDT (4:50 PM IST).

 

The spacecraft is not expected to survive the impact with Comet 67P.

 
Rosetta has served scientists well, through a wealth of information that it sent during its closest approach to the Sun.

 
The grand finale Rosetta spacecraft can be watched by tuning to Livestream via rosetta.esa.int.

 

Science and space enthusiasts can also check out the coverage on NASA TV and the agency's website from 6:15 to 8 a.m. EDT Friday (3:45 PM to 5:30 PM IST) today with commentary, interviews and analysis from NASA.

 

According to European Space Agency scientists, they are ending the mission because the spacecraft's ever-increasing distance from the sun has resulted in significantly reduced solar power to operate the spacecraft and its instruments.

 

The Rosetta spacecraft probe, launched in 2004 carrying 11 science instruments, with number of contributions from NASA, arrived at its destination comet on August 6, 2014.

 

The spacecraft is the first mission in history to rendezvous with a comet and escort it as it orbits the sun.

 
Since its arrival at the comet, this historical spacecraft has captured more than 116,000 images during its 12-year mission to track a comet. It has also revealed what comets look like, what they are made of and how a comet changes as it is subjected to the increasing intensity of the sun's radiation, the European Space Agency said.

 
After two years of living with the comet, sending back an unprecedented wealth of information during its closest approach to the Sun, Rosetta and the comet are now heading out beyond the orbit of Jupiter again.

 

Travelling farther from the Sun than ever before, and faced with a significant reduction in solar power that it needs to operate, Rosetta's destiny has been set - it will follow Philae down onto the surface of the comet, the European Space Agency said in a statement.

 

The final hours of descent will enable Rosetta to make many once-in-a-lifetime measurements, including analysing gas and dust closer to the surface than ever possible before, and taking very high resolution images of the comet nucleus, including the open pits of the Ma'at region, where the spacecraft is expected to make its controlled impact, the space agency said.