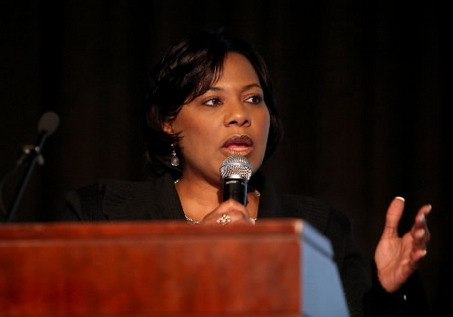 Martin Luther King Jr.'s youngest daughter, on the federal holiday honoring her father's legacy, urged people to not get worried about the upcoming presidency of Donald Trump. 
"God can triumph over Trump," said Bernice King at a gathering at Ebenezer Baptist Church in Atlanta on Monday, reports said.
She went on to offer praise to Rep. John Lewis, a legend of the civil rights movement who was hit with harsh criticism by Trump after announcing plans to boycott his inauguration. 
In what appeared to be a subtle comeback to Trump's claims Lewis was doing a bad job, with his district supposedly in "horrible shape" and "falling apart," King expressed pride in Lewis' work.
"Many of you here are proud residents of the fifth congressional district and we are proud of the progress we have made here and in this city."
After Lewis said in an interview that he did not view Trump as a "legitimate president," Trump tweeted that the congressman was "all talk" and "no action."
On Monday, Martin Luther King III met with Trump at Trump Tower.
Martin Luther King's son said he had a "very constructive" meeting with the president-elect.
He also acknowledged the president-elect's feud with Lewis.
"Well, first of all I think that in the heat of emotion a lot of things get said on both sides. And I think that at some point -- I am, as John Lewis and many others, a bridge builder," King told reporters in the lobby of Trump Tower.