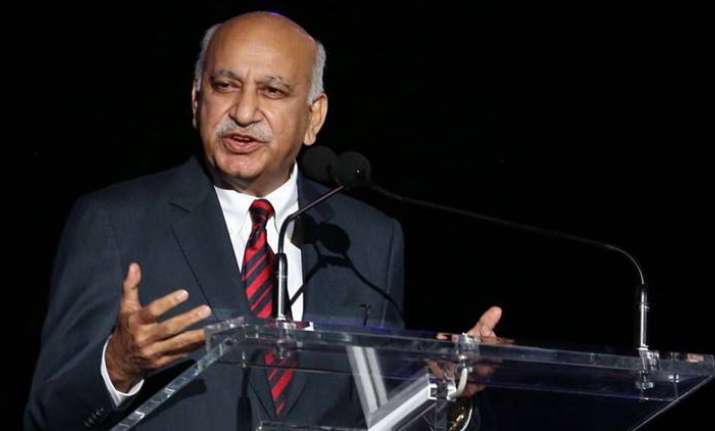 Making a strong reaction against Pakistan's Prime Minister Nawaz Sharif's remarks at the UN General Assembly, India today described them as non-factual and full of "threat bluster" and said that glorification of Hizbul commander Burhan Wani by him at the world forum is an act of "self-incrimination" by Pakistan. 
 

"We just heard a speech full of threat bluster and rising immaturity and complete disregard of facts," Minister of State for External Affairs M J Akbar said at a press conference at the India's permanent mission here after Sharif's address to the UN General Assembly.

 
He also criticised Sharif for glorifying Wani, who was killed in an encounter with security forces on July 8, and said India "will not succumb to blackmail tactics of the Pakistan Government that seems eager to use terrorism as policy". 
 

"We heard the glorification of a terrorist. Wani is declared commander of Hizbul, widely acknowledged as a terror group. It is shocking that a leader of a nation can glorify a self-advertised terrorist at such a forum. This is self incrimination by Pakistan PM," Akbar said. 

 
Rejecting Sharif's offer to India to enter into a serious and sustained dialogue for the peaceful resolution of all outstanding disputes, the minister said, "Talks and guns don't go together". 
"Pakistan at this moment seems to be run by a war machine rather than a government. Pakistan wants dialogue while holding a terrorist gun in its hand," he said. 
He also rejected Sharif's allegations against India with regard to the current unrest in Kashmir and said, "Kashmir occupation is by Pakistan occupation army. The world also knows that Pakistan has been indulged in ethnic cleansing of its own people," he said. 
Continuing his intense lobbying efforts this week at the UN, Sharif in his speech called for international intervention in Kashmir saying: "The international community ignores the danger of rising tensions in South Asia, at its own peril."
Asked by a reporter how India saw this campaign, Akbar said, "Very simple response. Hope you heard the others' speeches (at the Assembly). Nobody has raised it."
Nawaz also took a shot at another issue of importance to India, the reform of the Security Council. While he said that he supported a "comprehensive and democratic reform" of the Council, Islamabad was against "creating new centres of privilege -- diplomatic language for opposing the creation of new permanent members.
On Wednesday, Sharif met Secretary General Ban Ki-moon. 
"The Secretary-General stressed the need for Pakistan and India to address their outstanding issues, including Kashmir, through dialogue in the interest of both countries and the region as a whole," according to a brief statement by Ban's spokesperson.
Pakistani media reports said that Sharif gave Ban a "dossier of Indian atrocities." Sharif had said in his speech that he would give Ban the dossier.
A picture from the meeting released by the UN showed Sharif glum-faced and Ban smiling.