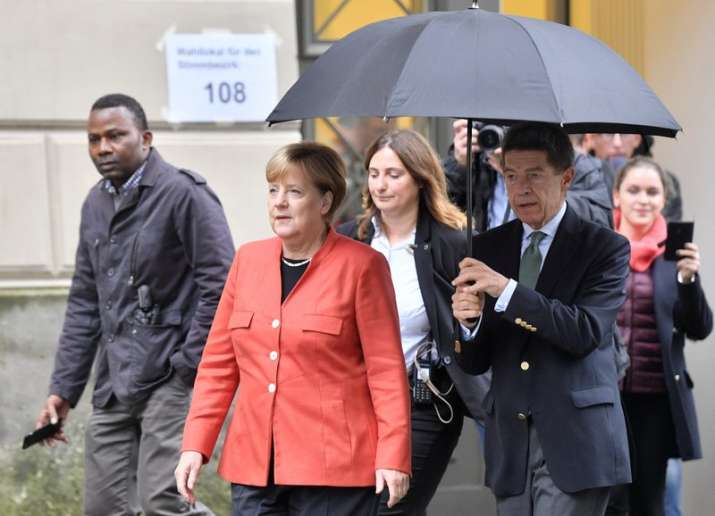 German Chancellor Angela Merkel on Sunday claimed a mandate to form a new government as her conservative bloc was on course for a lackluster victory while the nationalist Alternative for Germany party was heading for a triumphant entry into parliament.
Exit polls suggested that Merkel, who was seeking fourth consecutive term as Chancellor, scored around 33 percent of the vote with her
Christian Democratic Union and their Bavaria-only allies, the Christian Social Union. Her victory was, however, marred with the historic entry right-wing nationalist into parliament.
Behind Merkel's conservative bloc was her main center-left rivals, the Social Democratic Party, with 20-21 per cent of votes. This would be Martin Schulz-led party's worst result since World War II. The party served since 2013 as the junior partner in a "grand coalition" of Germany's biggest parties under Merkel.
The hard-right Alternative for Germany (AfD) clinched third spot, obtaining between 13 and 13.5 per cent of the vote, national broadcasters ARD and ZDF said in separate exit polls.
Merkel's conservative bloc had secured 41.5 percent votes four years ago.
Smaller parties score big 
Smaller parties were the chief beneficiaries of an erosion in support for the pair: above all the right-wing nationalist Alternative for Germany party, or AfD, which was polling up to 13.5 percent. It capitalized on discontent with established politicians but particularly targeted those angry over the influx of more than 1 million mostly Muslim migrants in the past two years.
Another big winner Sunday was the pro-business Free Democratic Party, which appeared set to return to parliament with 10.5 percent of the vote. The party was Merkel's coalition partner in her second term from 2009-2013 but lost all its seats at the last election.
The traditionally left-leaning Greens were seen winning around 9.5 percent and the Left Party some 9 percent.
The caucus leader of Merkel's Union bloc, Volker Kauder, said he "would have liked a better result" but voters had given the party the task of forming the next government.
The Social Democrats made clear that they don't want to be part of it.
"For us it is very clear that the voters have given us the task of going ahead as the strongest party in opposition," said Manuela Schwesig, a deputy party leader.
If the Social Democrats stick to that pledge, Merkel will effectively have only one option to form a new government: teaming up with the Free Democrats and the Greens in an alliance that has never yet been tried in a national German government.
That combination — known as a "Jamaica" coalition because the parties' colors match those of that country's flag — will have to overcome traditional distrust between both the Free Democrats and Greens and between parts of Merkel's conservative bloc and the Greens.
The Left Party is incompatible with the conservatives and all others have voted not to work with AfD.
AfD co-leader Alexander Gauland vowed that "we will take our country back" and promised to "chase" Merkel.
"This is a big day in our party's history. We have entered the Bundestag and we will change this country," Gauland said.
Big cheers went up at AfD headquarters after the exit polls were announced. Some supporters chanted "AfD! AfD!" and others started singing the German national anthem.
(With AP inputs)