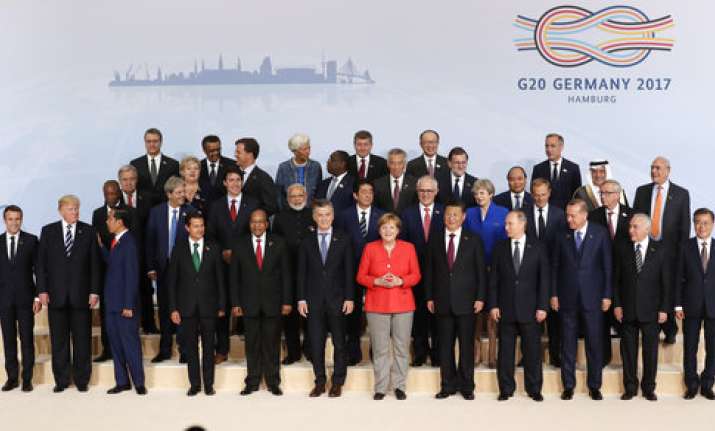 Coming out strongly in support of Prime Minister Narendra Modi's passionate call for a concerted global crackdown on nations supporting terrorism for their political goals, G20 leaders on Friday agreed to eliminate all terror safe havens from every part of the world. The G20 leaders unambiguously said that they condemned all terrorist attacks worldwide and stand united and firm in the fight against terrorism and its financing.The G20 nations issued a  joint declaration on countering terrorism on the first day of the G20 Summit in Hamburg that called for facilitating swift and targeted exchanges of information between intelligence, law enforcement and judicial authorities on operational information-sharing, preventive measures and criminal justice response. 
 "We will ensure that terrorists are brought to justice.  We will work to improve the existing international information architecture in the areas of security, travel and migration, including INTERPOL, ensuring the necessary balance between security and data protection aspects," the  21-point joint declaration said. 
The G20 nations said border agencies will strengthen cooperation to detect travel for terrorist purposes, including by identifying priority transit and destination countries of terrorists. 
"We will address in close coordination the evolving threats and potential vulnerabilities in aviation security systems and exchange information on risk assessments," the declaration said. 
In efforts to choke funding for terror activities, the G20 leaders reiterated their resolve to make the international financial system entirely hostile to terrorist financing and deepen exchange of information, including working with the private sector. 
"We call for strengthening measures against the financing of international terrorist organisations in particular ISIL/ ISIS/ Daesh, Al Qaida and their affiliates," the declaration said. 
Stressing that there should be no "safe spaces" for terrorist financing anywhere in the world, the G20 nations expressed their commitment to intensify capacity building and technical assistance, especially in relation to terrorist financing hot-spots. 
"We will advance the effective implementation of the international standards on transparency and beneficial ownership of legal persons and legal arrangements for the purposes of countering financing terrorism," it added.  According to the declaration, low cost attacks by small cells and individuals funded by small amounts of money transferred through a wide range of payment means are an increasing challenge. 
"We call upon countries to address all alternative sources of financing of terrorism, including dismantling connections, where they exist, between terrorism and transnational organised crime," it noted.  
Further, the leaders said they highlight the importance of providing appropriate support to the victims of terrorist acts and will enhance cooperation and exchange of best practices to this end. 
PM Modi targets Pakistan in strong message on terror at G-20 Summit
Earlier, Modi had delivered a strong message against terror activities and called for concerted global crackdown against countries that support on nations supporting terrorism for their own political goals. 
Bracketing Pakistan-based terror groups like LeT and JeM with ISIS and al-Qaeda, PM Modi presented a 11-point action plan to counter terror, including a ban on the entry of officials from terrorism-supporting countries into G-20 nations.
Without naming Pakistan or any other country, he said the basic form of terrorism is based on 'different names and one thinking' as he listed ISIS and al-Qaeda in the Middle East, Lashkar-e-Taiba (LeT) and Jaish-e-Mohammad (JeM) and the Haqqani network in South Asia and Boko Haram in Nigeria as 'some names related to terrorism'. 
He said that the basic ideology of all these groups is 'hatred and killing'. 
"Some nations are using terrorists to further their political goals," Modi said while terming the international cooperation in fighting this menace as inadequate.
"Today, countries are less networked in terms of response and terrorists are better networked as the scope of our actions are mostly national," he said, while calling terrorism as the biggest challenge before the world. 
An immediate adoption of Comprehensive Convention on International Terrorism (CCIT) is required, and so is the implementation of other international measures and of the UN Security Council resolutions in this regard, Modi asserted. He also called for joint efforts by G20 on de-radicalisation and on exchange of best practices. Modi sought effective implementation of recommendations made by the Financial Action Task Force (FATF) on terror financing and suggested setting up of an Explosive Action Task Force. 
Observing that terrorists are using cyber space for misleading the youth and for radicalisation and recruitment, he called for concrete cooperation in this area in the context of terror activities and suggested putting a mechanism in place within the grouping for national security advisors on counter terrorism. 
Earlier at the informal meeting of the BRICS nations, the Prime Minister asked the G20 nations to collectively crackdown on terror financing, safe havens, 'support and sponsors' of terrorism. He also urged leaders from the BRICS nations to show leadership in fighting terrorism and boosting global economy. 
(With agency inputs)