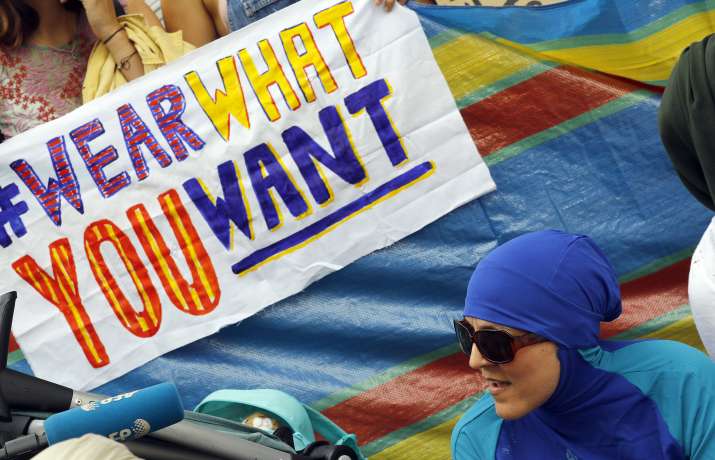 The top administrative court in France today overturned the controversial ban on burkinis, saying that it "seriously, and clearly illegally, breached the fundamental freedoms to come and go, the freedoms of beliefs and individual freedom".
The landmark decision comes amid widespread outrage among the Muslim community and sections of the French government.
The decision came after the State Council, the highest administrative court of France, upheld a challenge by human rights groups which argued that the ban in the Riviera resort of Villeneuve-sur-Loubet infringed personal freedoms.
According to a report in The Telegraph, the State Council said in its judgment that the ban "constituted a serious and manifestly illegal infringement of fundamental liberties".
Patrice Spinosi, a lawyer for the Human Rights League, said the decision to "suspend" the ban would also apply to another 29 French towns that have banned the burkini.
The ban, which spread to more than a dozen coastal towns, had created a rift within the Prime Minister Manuel Valls-led Socialist government. The PM had defended it on Thursday while some ministers criticised it.
Under the French legal system, temporary decisions can be handed down before the court takes more time to prepare a judgement on the underlying legality of the case.
The ban had divided France with widespread protests against the decision to ban burkinis at resorts.
The debate was further inflamed after photographs circulated online showed police apparently ordering a woman on a beach in Nice to remove her long-sleeved tunic.
Nicolas Sarkozy, the former conservative president, demanded a nationwide burkini ban as he placed Islam, immigration and security at the heart of his campaign to win back power from the Socialists in elections next year.
Opponents of the bans said they fuelled a racist political agenda as the election campaign kicks off.
(With Agencies)