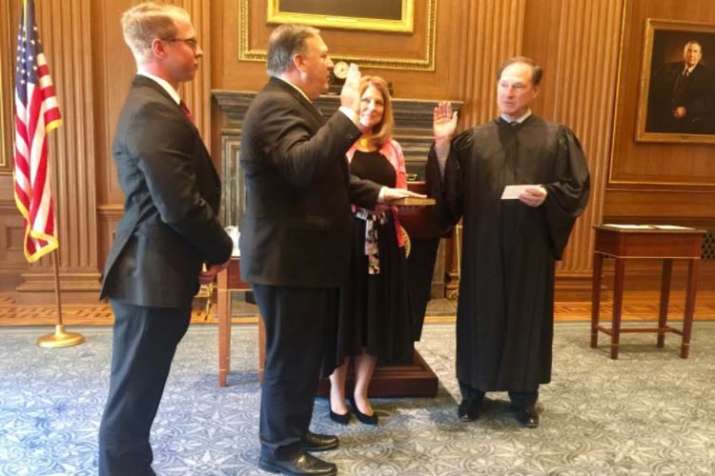 Former CIA director Mike Pompeo was on Friday sworn in as the 70th US Secretary of State after the Senate approved his candidature by 57 votes to 42.
The 54-year-old replaced Rex Tillerson who was fired by US President Donald Trump after a year of tensions with the White House over policy and tensions in the White House.
Immediately after the swearing-in-ceremony, the US State Department announced that Pompeo will be travelling to Brussels, Jerusalem, Riyadh and Amman from April 26 to April 30.
Mike Pompeo in a statement said that he was humbled by the responsibility bestowed upon him. "I'm delighted to be the Secretary of State and completely humbled by the responsibility. I'm looking forward to serving the American people and getting to work right away."
Congratulatory responses poured in shortly after the swearing-in ceremony. Calling Pompeo an 'asset', US President Donald Trump said that he would always have his support. 
"Having a patriot of Mike's immense talent, energy and intellect leading the Department of State will be an incredible asset for our country at this critical time in history," President Trump said in a  statement.
"He will always put the interests of America first. He has my trust. He has my support", Trump added.
Taking to Twitter, US Vice President Mike Pence congratulated Pompeo and wished him luck for his tenure ahead.
Congratulations to Mike Pompeo on being confirmed the 70th Secretary of State! Mike brings years of public service and expertise to the job. @POTUS & I know that Mike Pompeo will serve our Nation w/ distinction and will do an outstanding job for the American people.

— Vice President Mike Pence (@VP) April 26, 2018
US Envoy to the United Nations, Nikki Haley, also congratulated Pompeo on the social media.
Congratulations to our new Secretary of State and my dear friend, Mike Pompeo. #USStrong 🇺🇸 pic.twitter.com/TTWWiAz1gm

— Archive: Ambassador Nikki Haley (@AmbNikkiHaley) April 26, 2018