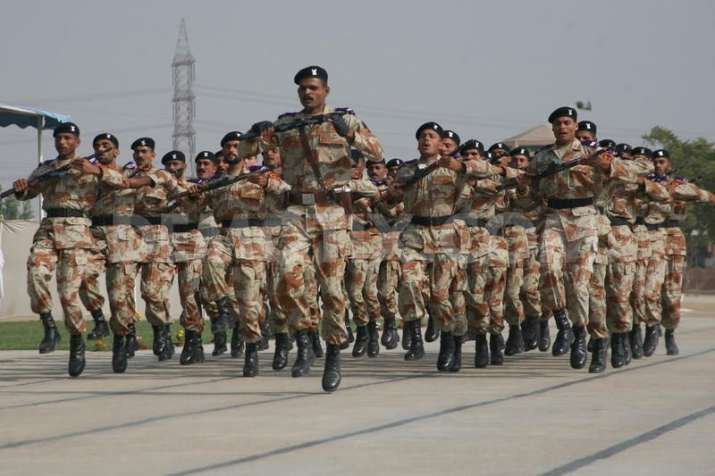 Apprehending retaliation from India following Uri attacks that led to the death of 18 Indian soldiers, Pakistan Rangers has reportedly cancelled leaves of its personnel deployed along the Indo-Pak border in Jammu and Kashmir and Punjab.
According to a report in The Indian Express, the Headquarters of the Pakistan Rangers in Lahore issued these directions immediately after the Uri attack.
Quoting a senior officer of Indian Army, the report says that the number of Pakistan Rangers deployed along the border has also been increased.
In addition to that any gaps which existed in their deployment due to shortage of manpower have also been filled.
"The intelligence intercepts and ground based information also reveals that the senior officers of the Rangers, including those who hold the appointment of Wing Commander have also been asked to position themselves in forward areas. The Wing Commanders have, in fact, been instructed to stay overnight in forward locations till the situation is re-assessed by higher headquarters," the officer was quoted as saying by The Indian Express. 
The report further points out that several posts of Pakistan Rangers are known to be functioning as staging posts to infiltrate terrorirts belonging to the Jaish-e-Mohammad as well as Lashkar-e-Toiba. These terrorists are first concentrated in a detachment in Sialkot before they are dispersed to different locations of Pakistan Rangers posts along the Indo-Pak border to be pushed into India.
Meanwhile, Pakistan based 'The News' reports that India has completed the first phase of its preparations to attack selected targets inside Pakistan under the Cold Start war doctrine. 
Quoting its sources, the report says that the Pakistan Army has also prepared itself to counter any Indioan attack with full force and that the decision to cancel flights to northern areas was taken as a precautionary step.