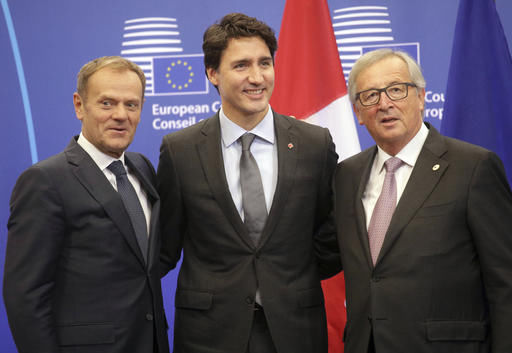 European Union and Canada have signed a landmark trade deal on Sunday that is promised to generate jobs and economic growth on both sides of the Atlantic.
The historic deal commits them to opening their markets to greater competition, after overcoming a last-minute political obstacle that reflected the growing skepticism toward globalization
The deal was signed by Canadian Prime Minister Justin Trudeau and top European Union officials in Brussels yesterday.
Prime Minister Robert Fico of Slovakia, which currently holds the EU Presidency, said, the final approval of the deal is a milestone in the European Union's trade policy. The Comprehensive Economic and Trade Agreement, known as CETA, required all European Union member states to endorse it. All 28 European Union states approved the deal on Friday when consensus was reached.
The CETA removes 99 percent of customs duties between the two sides, linking the single European Union market with the world's 10th largest economy. It is seen by many EU officials as a model for future economic agreements with the bloc's other large trade partners including the likely one with the U.K. once it leaves the EU.
The CETA aims to revoke roughly 9,000 tariffs, covering many industrial goods and agricultural and food items. It also promises to open up competition in the services sector, including in banking and insurance. The deal can be applied provisionally once the European Parliament also ratifies it in December.
Critics, however, denounced the deal as power-grab by multinational corporations. Some 100 anti-globalisation protesters clashed with police outside the venue in Brussels, trying to break down barriers in front of the main entrance and hurling red paint.