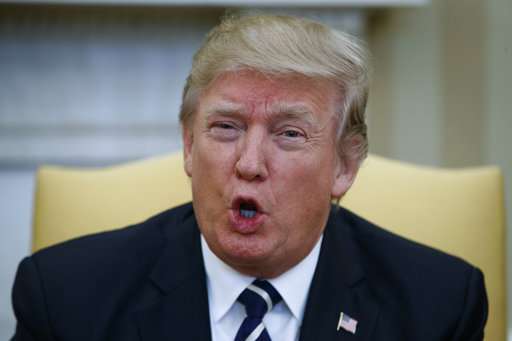 Issuing a stern warning to North Korean leader Kim Jong-Un, US President Donald Trump on Thursday said that he will "truly regret" any hostile acts against Guam, any other US territory or any US allies. 
"If he (Kim Jong-Un) utters one threat, in the form of an overt threat, which by the way he has been uttering for years, and his family has been uttering for years, or if he does anything with respect to Guam, or any place else that's an American territory or an American ally, he will truly regret it and he will regret it fast," Trump told reporters at his summer vacation home in Bedminster, New Jersey on Thursday.  
"I hope that they are going to fully understand the gravity of what I said, and what I said is what I mean. Those words are very easy to understand," he added.
Earlier in the day, the US President told his 35.5 million followers on Twitter that military solutions against the nuclear-armed North Korean regime were "locked and loaded" for use if Pyongyang acted "unwisely".  
"Military solutions are now fully in place, locked and loaded, should North Korea act unwisely. Hopefully (North Korean leader) Kim Jong Un will find another path!" he wrote in a tweet. 
"USAF B-1B Lancer bombers on Guam stand ready to fulfil USFK's fight tonight mission if called upon to do so," the Pacific Command said in a tweet. 
Trump defended his stand against North Korea and claimed that Americans are happy with his remarks.  "My critics are only saying that because it's me. If somebody else uttered the exact same words that I uttered, they'd say what a great statement, what a wonderful statement," he said. 
"But I will tell you, we have tens of millions of people in this country that are so happy with what I am saying, because they say finally we have a president that's sticking up for our nation and frankly, sticking up for our friends and our allies. This man will not get away with what he is doing, believe me," he added. 
Talking about his tweet on the military solutions in Guam, Trump said, "I think it's pretty obvious. We are looking at that very carefully and I hope they are going to fully understand the gravity of what I said, and what I said is what I mean." 
He said he does not want to talk about back channel talks with North Koreans as being reported by some media outlets.  
"We don't want to talk about progress, we don't want to talk about backchannels. We want to talk about a country that has misbehaved for many many years, decades actually, through numerous administrations and they didn't want to take on the issue and I had no choice but to take it on, and I'm taking it on," he said. 
"We will either be very, very successful quickly or we're going to be very, very successful in a different way,  quickly," he added.
Meanwhile, German Chancellor Angela Merkel criticised Donald Trump's handling of the North Korean stand-off during a press conference in Berlin on Thursday.
"I believe that an escalation of rhetoric will not contribute to a solution of this conflict. I do not see a military solution to this conflict rather I see continuous work like we saw in the UN Security Council with members with resolutions in view of North Korea," she added.
Russian Foreign Minister Sergei Lavrov also expressed his worry over 'direct threats of force' being exchanged between Donald Trump's America and Kim Jong-un's North Korea. 
"Unfortunately, the rhetoric in Washington and Pyongyang is now starting to go over the top. We still hope and believe that common sense will prevail," he said.
"The risks are very high, especially taking into account the rhetoric," he added.
(With agency inputs)