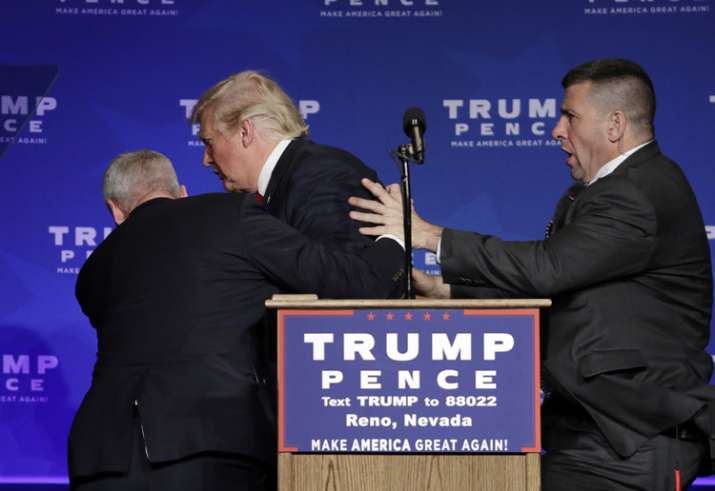 Republican Presidential nominee Donald Trump was on Saturday rushed off stage by the Secret Service during a rally in Nevada but returned within minutes.
Trump had been speaking to supporters in Reno for a while when a disturbance broke out in the crowd close to the podium.
Two Secret Service agents quickly surrounded Trump, then hustled him off stage.
#WATCH Donald Trump was rushed off stage during his Reno, Nevada campaign rally; one man escorted out in handcuffs by police. pic.twitter.com/YJb2i705wa

— ANI (@ANI) November 6, 2016
The nature of the disturbance was unclear. But several security officials escorted a man out of the venue soon afterward.
Upon his return, Trump thanked the Secret Service.
He told the crowd: "Nobody said it was going to be easy for us. But we will never be stopped. Never ever be stopped."
Thank you Reno, Nevada.
NOTHING will stop us in our quest to MAKE AMERICA SAFE AND GREAT AGAIN! #AmericaFirsthttps://t.co/N8EFAQDhnt pic.twitter.com/OoM3hsDWS1

— Donald J. Trump (@realDonaldTrump) November 6, 2016
"Thank you Reno, Nevada. NOTHING will stop us in our quest to MAKE AMERICA SAFE AND GREAT AGAIN!," Donald Trump tweeted later.
He also released a statement saying, "I would like to thank the United States Secret Service and the law enforcement resources in Reno and the state of Nevada for their fast and professional response."  
The statement further said, "I also want to thank the many thousands of people present for their unwavering and unbelievable support. Nothing will stop us - we will make America great again!"
Earlier at the rally, Trump accused officials of wrongly keeping polling sites open late in Nevada's Clark Country in order to boost Democratic early-voting turnout.
There appears to be no evidence that is the case.
Trump also sounded confident about his chances in the state, despite a surge in early-voting by Democrats and Latinos that has Democrats feeling optimistic.
Trump said, "They didn't get the kind of vote that they needed to stop us on Tuesday."
He continued to mock his rival Hillary Clinton's star-studded get-out-the-vote events, saying that she needs to appear alongside celebrities or else nobody will attend her events.