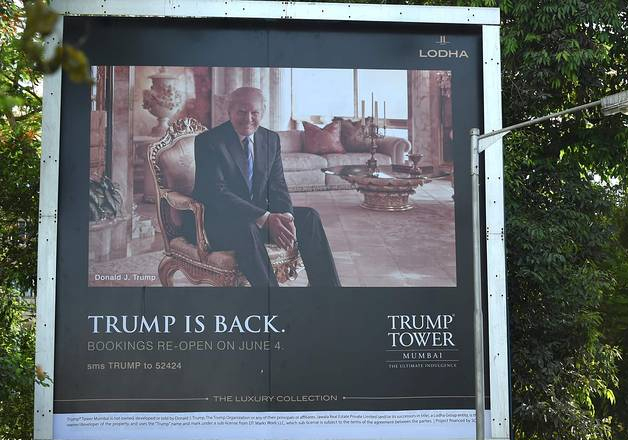 Republican presidential nominee Donald Trump has business connections in India too. The billionaire's company, Trump Organisation, had in 2013 and 2014 signed MoUs with Lodha Group in Mumbai and Panchshil Group in Pune, respectively, to develop two luxury residential buildings.
Reports say that in Pune, nearly half of the 46 apartments in the twin Trump Towers had completed construction, where as in Mumbai, more than half of the 400 apartments have been sold.
Trump has not invested any money in the two projects, reports said, adding that both the companies will pay him an undisclosed sum in royalty. The Trump Organisation is known to have licensed Lodha Group and Panchshil Group to use his name in the residential buildings.
The project in Pune, however, has come under the scanner of the authorities after discrepancies were found in documents related to the land.
"We are currently in the investigation process. We have been conducting an inquiry for the last five or six months," Saurabh Rao, Pune district collector, said.
The Pune site has two blocks of 23 storeys each housing 46 single floor residences. Bollywood actor Rishi Kapoor and his son Ranbir have already purchased apartments for Rs 13 crore last year. 
The Mumbai site, a high-end 75-storey tower, is being built in the Worli area. It will have three and four bedroom apartments priced from Rs 9 crore onwards. Not only this, the residents will also be given a Trump Card, enabling them to enjoy special privileges and benefits at Trump hotels and golf resorts across the world.
Interestingly, both the groups, Lodha Group and Panchshil Group, are connected with political figures in the state. While Lodha Group chairman and founder Mangal Prabhat Lodha is a BJP legislator from the Malabar Hill area of Mumbai, Panchshil Group is run by Chordia family whose business associates include NCP leader Supriya Sule.
Trump had earlier been quite vocal about his developmental projects in India in the real estate sector. 
"I am involved in two massive developments in India, you probably know, very successful, wonderful, wonderful partners, very beautiful," Trump had said, adding that 'he has great confidence in the country'.
This is not the first time that Trump had signed an agreement with Indian firm. In 2011, he had signed MoU with Rohan Lifescapes for his uber-luxury project in Hughes Road in south Mumbai, but the deal fell through due to regulatory issues.