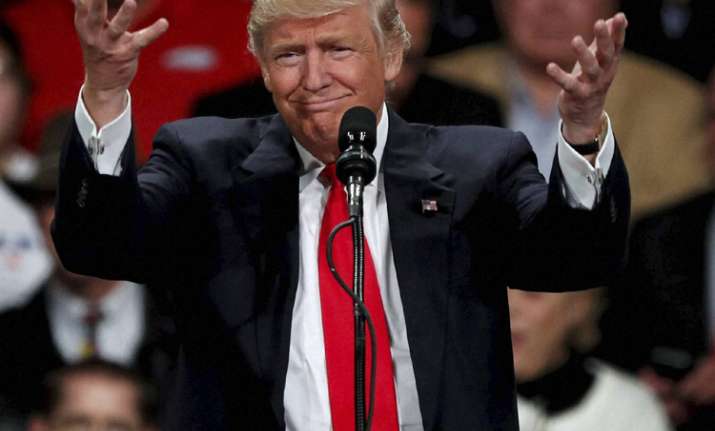 Jumping ahead of investigators, President-elect Donald Trump today blamed "Islamist terrorists" for deadly violence in Turkey and Germany and vowed anew to eradicate regional and global networks of ISIS and other terrorists.
Authorities in both countries were still investigating Monday when Trump issued a pair of statements condemning the incidents. The White House had already described the episode in central Berlin, in which a truck rammed into shoppers at a Christmas market, as an apparent terrorist attack.
"Today we offer our condolences to the family and loved ones of Russian Ambassador to Turkey Andrei Karlov, who was assassinated by a radical Islamic terrorist," Trump said in a statement.  
"The murder of an ambassador is a violation of all rules of civilised order and must be universally condemned," he said.  
Karlov was shot dead by a Turkish gunman at an art exhibition in Ankara last evening. The gunman shouted "God is great!" and "don't forget Aleppo, don't forget Syria", after killing the envoy.  
Turkish authorities identified the gunman as Mevlut Mert Altintas, a member of Ankara's riot police squad, and said he was later killed in a shootout with police. 
Condemning the Berlin attack, the 70-year-old business tycoon said: "Our hearts and prayers are with the loved ones of the victims of today's horrifying terror attack in Berlin. Innocent civilians were murdered in the streets as they prepared to celebrate the Christmas holiday."  
A lorry ploughed into a busy Christmas market in central Berlin yesterday, killing at least 12 people and injuring over 50 in what police said was a possible terror attack.  
"ISIS and other Islamist terrorists continually slaughter Christians in their communities and places of worship as part of their global jihad. These terrorists and their regional and worldwide networks must be eradicated from the face of the earth, a mission we will carry out with all freedom-loving partners," Trump said.  
Today there were terror attacks in Turkey, Switzerland and Germany - and it is only getting worse. The civilized world must change thinking!

— Donald J. Trump (@realDonaldTrump) December 19, 2016
Earlier, in a tweet, Trump said, "Today there were terror attacks in Turkey, Switzerland and Germany - and it is only getting worse. The civilized world must change thinking!" 
In Switzerland, a man burst into a Muslim prayer hall, shooting and wounding three men. The attacker was later found dead. The mosque is frequented by Somali immigrants. 
Meanwhile, President Barack Obama, who is on a vacation in Hawaii, was briefed about the assassination of the Russian envoy by his national security aide, the White House said.  
"This morning the President was briefed by his National Security Team on the assassination of the Russian Ambassador to Turkey in Ankara today. The President directed his team to provide updates as warranted," White House Deputy Press Secretary Eric Schultz said.  
Earlier in a statement, US Secretary of State John Kerry condemned the assassination of Russian Ambassador and offered all American help in the investigation into the tragic incident.  
"The US condemns the assassination today in Ankara of Russian Ambassador Andrey Karlov. Our thoughts and prayers are with his loved ones, the Russian people, and with the other victims who were injured in this shooting," Kerry said.  
"We stand ready to offer assistance to Russia and Turkey as they investigate this despicable attack, which was also an assault on the right of all diplomats to safely and securely advance and represent their nations around the world," he added.