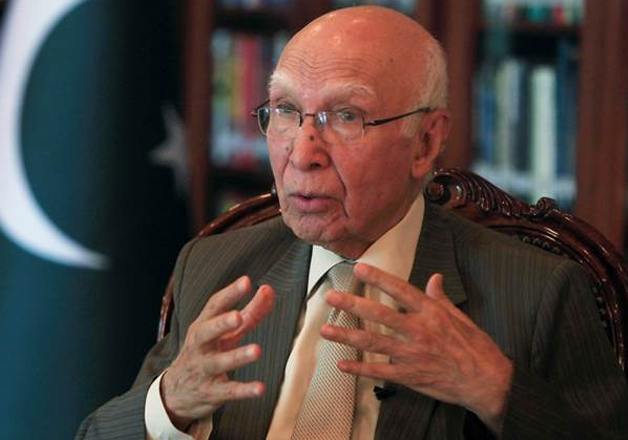 Days before he travels to India to participate in the Heart of Asia conference, pakistan's top diplomat Sartaj Aziz said that 'Islamabad will hold a dialogue with New Delhi only if the Kashmir issue is on the agenda'.
Addressing the National Assembly or Lower House of Parliament on the situation along the Line of Control (LoC), Aziz, who is also Pakistan Premier's Adviser on Foreign Affairs, said that his country will continue its 'moral, political and diplomatic support to Kashmiris for their right to self-determination'.
"Pakistan would hold dialogue with India on all issues but only with the inclusion of the Kashmir issue on the agenda," he said.
"Our policy on Kashmir is very clear. We will continue our support to the right of self-determination of Kashmiris…at all forums, including bilateral and international," he added.
He also said that that the motive behind India's aggression at LoC was to divert the international community's attention from the 'atrocities' and 'blatant human rights violations' in Kashmir.
Aziz will travel to India next month to attend the Heart of Asia conference on Afghanistan to be held in Amritsar. 
A bilateral meeting between Aziz and an Indian official on the margins of the meeting is yet to be confirmed.
Defence Minister Khawaja Asif also addressed the House and said that 'if India imposes war on Pakistan, his side will fight valiantly'.
India-Pakistan tensions spiked earlier this week when Indian troops mounted a massive bombardment of Pakistani positions along the LoC after three Indian soldiers were killed, and the body of one mutilated. According to Pakistani authorities, 14 people, including three soldiers, died in the shelling.