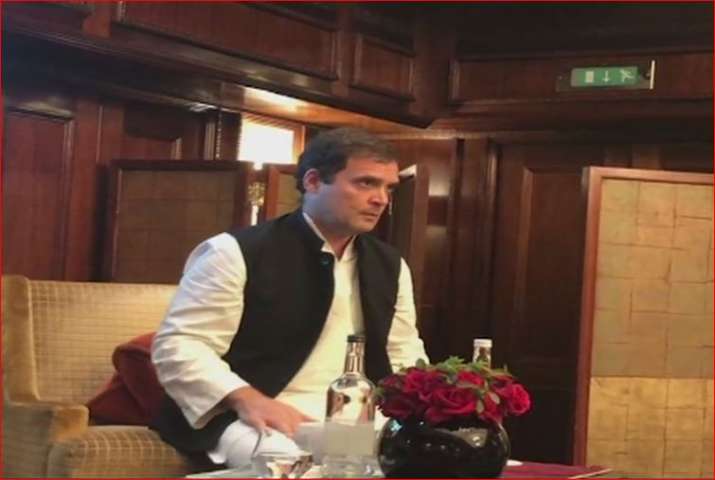 Congress president Rahul Gandhi on Saturday  said that he stands with the victims of 1984 anti-Sikh riots and those guilty of violence should be punished as per law.
"If violence is being perpetrated against somebody, there is a legal process. That legal process must go on and the people who have carried out violence must be punished according to law...and I will support 100 per cent," Gandhi said during his interaction with the Indian Journalists' Association in London.
Gandhi's remarks came a day after he disagreed with a question put to him during an interaction in the British Parliament that the Congress was involved in the 1984 anti-Sikh riots.
"I have no confusion in my mind about that. It was a tragedy, it was a painful experience. You say that the Congress party was involved in that...I don't agree with that. Certainly there was violence, certainly there was tragedy," Gandhi had said.
Hitting out at the Congress president for his statement, SAD chief Sukhbir Singh Badal alleged that Gandhi was trying to protect those Congress leaders who were involved in the "genocide".
"Rahul Gandhi has rubbed salt into the wounds of Sikh 'quom' (community) by saying that Congress was not involved in 1984 anti Sikh riots," Badal told reporters here today, adding, "It shows the thinking of Gandhi towards Sikh community."
On Saturday, Gandhi was again asked the question related to the anti-Sikh riots, which broke out in 1984 after the assassination of then Prime Minister Indira Gandhi by her Sikh security guards.
He said: "I don't know what major denial you are talking about. I am very straight forward person and there is no confusion in my mind."
Gandhi said he had stated on earlier occasions that he understands violence. "I do not believe in violence against anybody, regardless of religion or community and that's very clear," he stressed. 
Rahul further said that his party has an issue with the 'criminalisation' aspect of the Triple Talaq Bill.
However, he pointed out that the Congress did nothing to stonewall the bill in the Parliament.
"We have an issue with the criminalisation but we have not stone walled anything. Our issue is with the criminalisation aspect," Rahul Gandhi said during his interaction with the Indian Journalists' Association in London.
Reiterating his charge that the Chinese were still present in Doklam, Rahul Gandhi expressed surprise over PM Modi allegedly not including the issue in the agenda during his discussion with President Xi Jinping. 
"Chinese troops are still in Doklam & have built massive infrastructure there. The prime minister went recently to China and didn't discuss Doklam...Somebody comes here, slaps you on your face and you have a non agenda of discussion," Rahul said.
When asked about the report of the parliamentary committee on external affairs on the Doklam issue as he was a member of that committee, Rahul said he could not reveal its contents as he was bound by parliamentary privilege.
Watch: Congress President Rahul Gandhi interacts with Indian Journalists Association in London
Rahul Gandhi said he stood by his statement in which he had likened the RSS to the Muslim Brotherhood.
In an attempt to justify his statement, the Congress president argued that both organisations were formed in 1920s, both believed in capturing organisations through electoral process and both were banned in course of time.
When asked if he looked at himself as the next prime minister of India, Rahul said he does not have such visions. 
"I don't have these visions. I view myself as fighting an ideological battle & this change has come in me after 2014. I realised that there's a risk to Indian state, to Indian way of doing things and I'm defending that," Rahul said.
(With agency inputs)