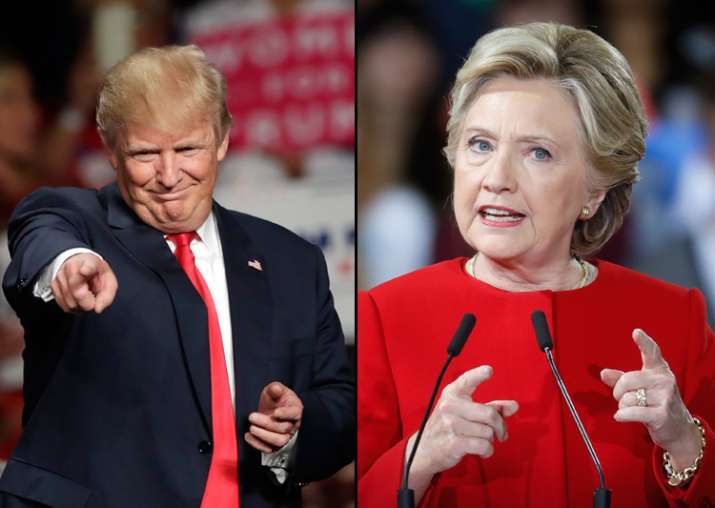 As the campaigning into US presidential election draws to the last stage, Hillary Clinton and Donald Trump today scrambled to make their final pitch to voters in the closely-contested race dogged by controversies like the Democratic nominee's email scandal and sexual assault allegations against her Republican rival.
As the final countdown for presidential election, branded as the most bitter and divisive in the US history, began today, Clinton, 69, and her running mate Tim Kaine's campaign received a last-minute boost by news that the FBI had found no new troublesome emails in a review of the former secretary of state's private server and she will not face criminal charges.
"Based on our review, we have not changed our conclusions that we expressed in July with respect to Secretary Clinton," FBI Director James B Comey told Congress leaders in a letter after a renewed probe into her use of private email server as secretary of state following a cache of recently discovered emails.
Seeking to become the first female president of America, Clinton relieved by the latest development will end her campaign with a rally in the battleground state of North Carolina at midnight local time.
Republican candidate Trump will close his campaign with an event in Grand Rapids, Michigan, a state where he is hoping to pull off a huge surprise.
Trump, 70 called the vote tomorrow a final chance to turn back foreign forces menacing American identity, while Clinton said the country's long journey toward equality for women and minorities was at risk of being reversed in a day's balloting.
Trump claimed that he is leading in battleground States and is headed to win the White House race, much to the surprise of the pollsters and the media.
"You have to get everyone you know to the polls. We are going to win. We are going to have one of the greatest victories of all time. This is going to be Brexit times 50," Trump told cheering supporters in Leesburg, a suburb of Washington DC in Virginia.
"I think, we are up in Colorado. We are doing very well in Nevada. Doing really well in North Carolina. I hear, we are going to do very well in the State of Virginia. We are winning Florida. I think, we are doing very well in Pennsylvania," he said.
Trump promised a raucous crowd that he would end trade deals supported by "crooked Hillary", scrap the Affordable Care Act and dramatically restrict the arrival of refugees in communities that don't want them.
He also addressed rallies in Iowa, Colorado, Minneapolis, Michigan and Pennsylvania.
Clinton, meanwhile, campaigned in Pennsylvania, where she maintains a lead, and in Ohio and New Hampshire, two battleground states that could go either way.
"This election is a moment of reckoning," Clinton told a crowd in Manchester.
(With PTI inputs)