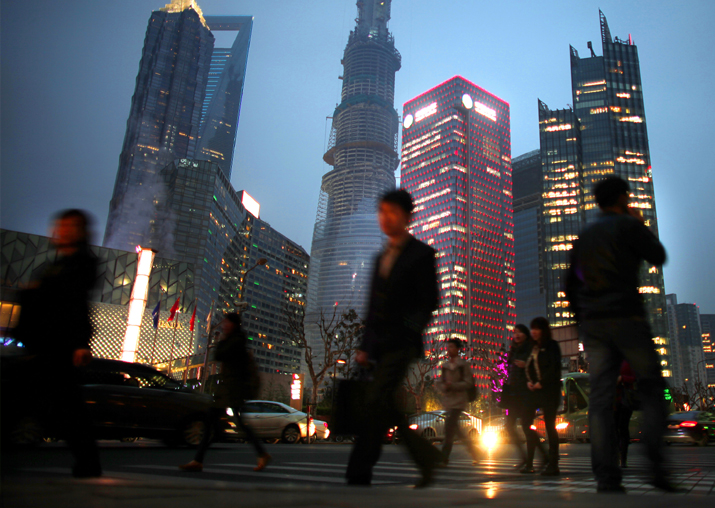 China's economy expanded at a 6.9 per cent pace in 2017, faster than expected and the first annual increase in seven years, the Chinese government declared on Thursday. 
With this, China is all set to reclaim the tag of fastest growing major economy in the world from India. In the current fiscal, the Indian economy is expected to grow at 6.5 per cent given the fact that the twin implementation of two key decisions -- demonetisation and Goods and Services Tax (GST), has badly hit the country's overall growth rate.
Last week, the World Bank's Global Economic Prospects report had claimed that after conceding its position as the fastest growing major economy to China for a year in 2017, New Delhi is likely to reclaim the position in 2018, with growth expected to accelerate to 7.3% in the year.
The 6.9 per cent growth rate beats economists' forecasts for China, the world's second largest economy and the Chinese government's own official growth target of 6.5 percent. The economy expanded at a 6.7 percent annual pace in 2016, its slowest in 26 years.
Growth in the fourth quarter held steady at 6.8 percent, though it was a tick slower than the 6.9 percent pace of growth in the first half of the year, the report said.
Buoyant consumer spending helped drive the faster expansion, with retail sales easing slightly but still increasing a healthy 10.2 percent last year, the report said.
A robust 10.8 rise in exports also helped, despite heightened trade tensions with the U.S. during the first year of Donald Trump's presidency.
Those factors helped China's economy defy expectations of weaker growth in the latter half of the year due to Beijing's curbs on bank lending. Analysts expect the credit clampdown to weigh further on growth this year.
"The national economy has maintained the momentum of stable and sound development and exceeded expectations," said the report released by the National Bureau of Statistics.
The latest results give some wiggle room to China's communist leaders, who are trying to ween the economy off of reliance on exports and investment in favour of slower but more sustainable consumer spending. The rebalancing has been complicated by Beijing's repeated infusions of credit to prevent activity from slowing too much, which has pushed up debt that analysts say is the biggest threat to economic stability.
Continued strong demand should help support China's exports, said Louis Kuijs of Oxford Economics.
"While domestic demand should cool on tighter financial policy, China's policymakers want the slowdown in credit and the economy to be gradual. We project GDP growth to slow to 6.4 percent this year," he said in a commentary.