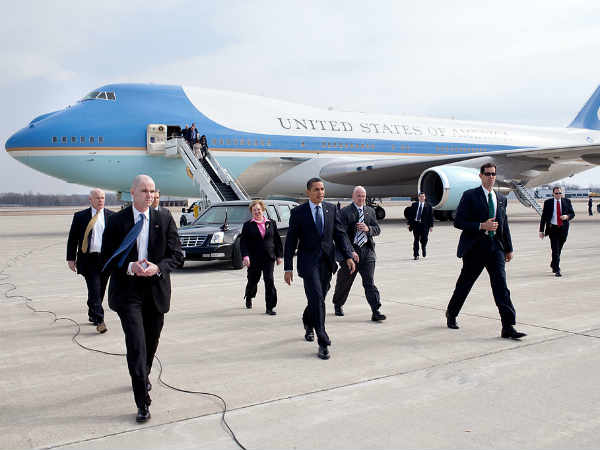 China's reception of US President Barack Obama has turned quite a few heads. Things went haywire as soon as the Air Force One landed in Hangzhou, site of the G20 summit.
The first sign of trouble: there was no staircase for Obama to exit the plane and descend on the red carpet. So, the President was prompted to use an alternative exit.
As it always does, the US military had flown in a set of rolling air stairs for Obama to come down and even sealed Chinese approval to use it. But, however, on his arrival, the Chinese suddenly backed out.
On the tarmac, a quarrel broke out between a presidential aide and a Chinese official who demanded the journalists travelling with Obama be prohibited from getting anywhere near him. It was a breach of the tradition observed whenever the American president arrives in a foreign place.
When the White House official insisted the U.S. would set the rules for its own leader, her Chinese counterpart shot back.
"This is our country! This is our airport!" the Chinese official yelled.
Government official was not happy that reporters were under the wing of AF1. WH press aide would not back down. pic.twitter.com/C3JRVIe37K

— Roberta Rampton (@robertarampton) September 3, 2016
Now, the economic summit has reached its conclusion and all the leaders of the nations who participated in it, including Obama, have flown back.
However, China and US do not seem to have moved past the fiasco and are blaming each other.
China has levelled the responsibility on US for the incident.
"I think if only the American group had respected the working arrangements first made with China then this wouldn't have occurred," Hua Chunying, Foreign Ministry Spokeswoman, told media.
"You saw that all the other country leaders all used the stairs that China provided. So why was it only the United States that didn't? These were the stairs the United States requested," she said.
On the other hand, Obama downplayed the entire fiasco saying he isn't one of those who leave his/her values behind.
Adding to the ruckus at the airport, a Chinese official also tried to keep Obama's national security adviser, Susan Rice, away from her boss.
Rice seemed less than amused by the incident when asked about it by a reporter.
"They did things that weren't anticipated," she said.
Later, two Chinese officials — one working to assist the American delegation — had to be physically separated after trying to hit each other outside an event.