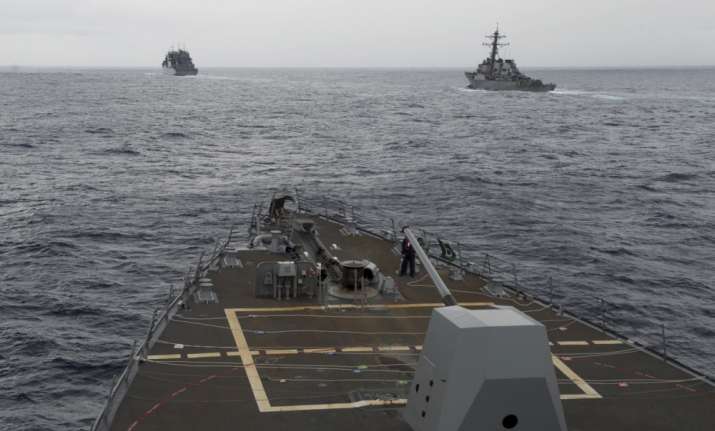 The underwater drone siezed by China in the disputed South China sea last week had been spying against the Communist nation posing a threat to their naval ships but Beijing is unlikley to make a big issue out of this, Chinese state media and experts said.
The Global Times cited a Chinese military source as saying Beijing believed the incident involving the U.S. drone, which triggered a formal diplomatic protest and a demand for its return, would be resolved "smoothly".
A Chinese military source confirmed with the Global Times that they received on Saturday a "claim request" from the US for an underwater drone after a Chinese warship seized the craft during a security check in the South China Sea.
"The downplaying of the actions of the drone cannot cover up the real intentions in the background," it said. "This drone which floated to the surface in the South China Sea is the tip of the iceberg of US military strategy, including towards China.
The drone, which the Pentagon said was operating lawfully was collecting data about the salinity, temperature and clarity of the water about 50 nautical miles northwest of Subic Bay, off the Philippines.
However, US President-elect Donald Trump, who has vowed to take a more aggressive approach in dealing with China over its economic and military policies, jumped on the unusual drone seizure with a pair of provocative tweets, accusing Beijing of stealing the equipment.
"China steals United States Navy research drone in international waters – rips it of water and take it to China in unpresidented [sic] act," Trump tweeted, before deleting and reposting the message with the correct spelling of unprecedented.
Trump's remark dew a sharp reaction from Chinese state media which lampooned him for 'not behaving like president.'
"Trump is not behaving as a President who will become master of the White House in a month" 
According to a Reuters report, the request was made after the Chinese navy seized the drone Thursday, about 80 kilometers northwest of Subic Bay in the Philippines just as the USNS Bowditch, an oceanographic survey ship, was about to retrieve it.
China says its looking for an appropriate way to return the vehicle, but accused Washington of hyping up the issue.
China is deeply suspicious of any US military activities in the resource-rich South China Sea, which China claims almost in its entirely.