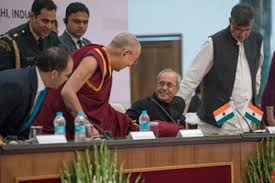 China has reacted sharply to President Pranab Mukherjee's recent meeting with the Dalai Lama, the Tibetan spiritual leader, and said that India must respect China's "core interests" to avoid "any disturbance" to the bilateral ties.
President Mukherjee had met the Dalai Lama at the Rashtrapathi Bhavan during a children's summit organised by Nobel Laureate Kailash Satyarthi's Children's Foundation on December 10.
"Recently in disregard of China's solemn representation and strong opposition, the Indian side insisted on arranging for the 14th Dalai Lama's visit to the Indian Presidential palace where he took part in an event and met President Mukherjee," Chinese Foreign Ministry spokesman, Geng Shuang told a media briefing in Beijing.
"The Chinese side is strongly dissatisfied with and firmly opposed to that," he said.
"The Dalai Lama is in political exile and is long been engaged anti-China separatist activities with the attempt of separating Tibet away from China under the cloak of religion," Geng said.
(With PTI inputs)