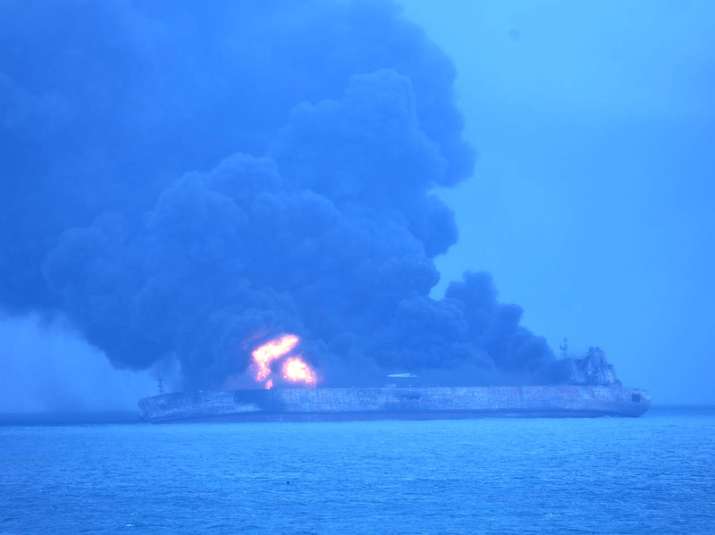 China warned on Tuesday that an Iranian oil tanker, which collided with a freighter in the East China Sea, could explode, while rescuers were still searching for 31 missing people after an incident which could unleash an environmental disaster.
The oil tanker Sanchi -- registered in Panama -- was still on fire after a collision with the Hong Kong-registered bulk freighter CF Crystal, which took place at around 8 pm on Saturday in the East China Sea, 160 nautical miles east of the Yangtze River estuary.
The Chinese Transport Minister said there was a danger of the Iranian tanker exploding or sinking, adding that the rescue operations were extremely tricky as the toxic smoke in the area could harm the people involved, Efe news reported.
Also read: Oil tanker collides with vessel off China coast, 32 crew members missing
Thirteen rescue vessels were operating at the site of the accident to search for the missing people in a 900-square nautical mile area.
Operations were hampered due to persistent rainfall and strong winds which were causing waves of up to four metres (13 feet) in height.
A 20 nautical mile security perimeter was established where ships were not allowed to enter.
Initially, there were 32 people missing -- 30 Iranians and two Bangladeshis -- but the Ministry said that one corpse was recovered on Monday morning, bringing the number of missing to 31.
The Chinese government said that an oil spill had taken place, but did not specify the extent of the area affected.
Foreign Ministry spokesperson Lu Kang had said Monday that clean-up efforts were under way and that the authorities would try to gather more information about the cause of the accident.
Environmental organisations including Greenpeace are concerned that the incident could become a major maritime disaster.
Greenpeace East Asia told Efe that the non-profit was trying to get more information via satellite to assess the situation.
The Sanchi was transporting 136,000 tonnes of refined petroleum from Iran to South Korea.