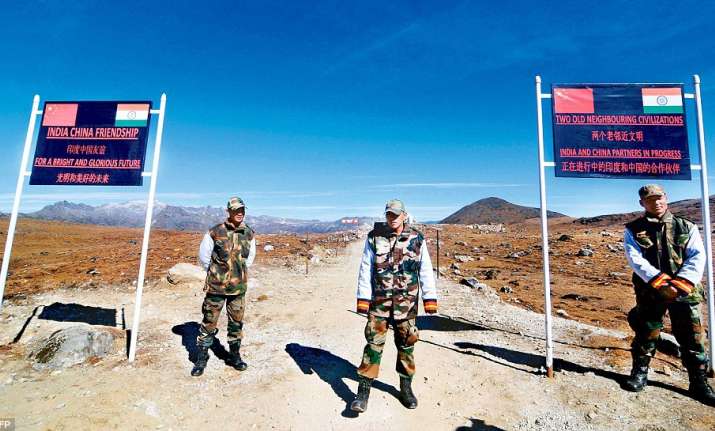 China today denied that its troops crossed over the Indian side in Demchok area in Ladakh region and stopped India's construction work on an irrigation canal. 
At a media briefing here, Chinese Foreign Ministry spokesperson Hua Chunying said that actions should not be taken by either side that may 'unilaterally change' the status quo of the Line of Actual Control (LAC).
"I can tell you that the Chinese border troops have been operating on the Chinese side of the LAC. Although the China-India boundary is yet to be delimited the two countries have reached many consensus and agreements on safeguarding peace and stability of the border area," Hua said.
It was reported yesterday that Chinese and Indian troops were locked in a stand-off at the icy heights of Ladakh division since Wednesday after People's Liberation Army (PLA) personnel entered an area where an irrigation canal was being built under the MNREGA scheme and stopped the civilian work. 
"This issue is once again published by the Indian media outlets," Hua said while replying to a question.
Apparently referring to the canal work, Hua said, "Either side shall not take action that may unilaterally change the statues quo of LAC." 
Referring to the talks between both the sides to resolve the issue, she said, "Currently the two countries have an effective communication through series of mechanisms. We believe that we can maintain peace and tranquility of the border area". 
Around 55 Chinese troops arrived at the scene in Demchok sector, located 250 km east of Leh, and halted the work in an aggressive manner, prompting the army and Indo-Tibetan Border Police personnel to rush to the spot and stop the high-handedness of Chinese troops at the site where the work for linking a village with 'Hot spring' was being undertaken. 
The LAC stretches up to 3,488-km long. While China says the border dispute covers Arunachal Pradesh, which it claims as Southern Tibet, India asserts that the dispute covered Aksai Chin area which was occupied by China during the 1962 war.
With PTI Inputs