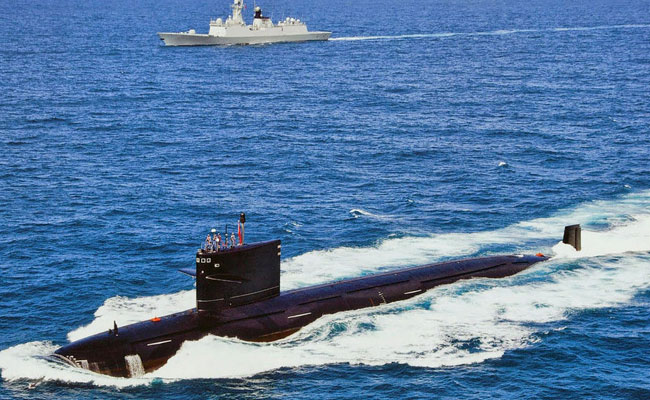 China's unflinching love for its 'all-weather ally' Pakistan leaped a step further on Thursday after the former officially confirmed its biggest ever military deal, the sale of eight attack submarines, to the latter.
According to an India Today report, experts believe that these submarines may be deployed by Pakistan in the Arabian Sea in order to challenge India's interests in the Indian Ocean region.
The report further stated that according to a shipping industry newspaper, the China Shipbuilding Industry Corporation held a meeting in Beijing "to discuss details of the arrangement".
Earlier this year, Pakistan had made an announcement about the deal, estimated at more than Rs 33,000 crore, but China was yet to confirm it. 
Four of the attack submarines are to be built at the Karachi shipyard, while the rest will be built in China.
As per China Shipbuilding newspaper's report, the China Shipbuilding Heavy Industry held a meeting on October 12 to confirm details of the deal, which was attended by it attended by its chairman Hu Wenming. The report was later published by the Chinese military's official website. 
While the first four diesel-powered electric submarines will be delivered by 2023, the remaining four will be delivered by 2028. 
The weaponry of the submarines, which are said to be export variants of Type 41 - Yuan-Class submarines with a depth of 300 metres, will be tailor-made for Pakistani requirements. 
Accpording to Hu Wenming, the deal of eight attack submarines was aimed at promoting China's "One Belt One Road" initiative, which was launched by President Xi Jinping in 2013. 
China-Pakistan economic corridor is already underway, which will be passing through Pakistan-occupied Kashmir, in which China is investing in developing the Gwador port on the Arabian Sea. 
Hu said he hoped exports of submarines to Pakistan would take place in future on a regular basis and that China's "iron brother" played a key role in the neighbourhood. He further added that the company is also eyeing exports of submarines to the Latin American market.
According to the report, China will be financing the deal with a low interest-rate loan to Pakistan to cover costs of the project.