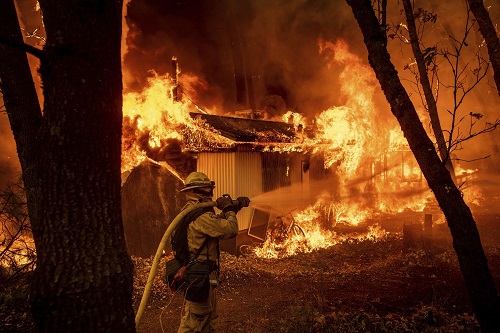 Portions of California remained under siege as three large wildfires threatened numerous communities, claiming five lives in the last few hours, while 150,000 were forced to evacuate.
Camp Fire, which is the largest blaze and the only one that has been deadly so far, devastated 28,000 hectares (69,000 acres) and engulfed much of Paradise, a town of 26,000 residents located some 280 km (174 mi) north of San Francisco.
The five confirmed victims were found in their vehicles, having died attempting to escape the blaze, Efe news reported on Friday.
The heavy traffic caused by the evacuations led many people to abandon their vehicles and flee by foot.
Paradise Mayor Scott Lotter, who evacuated with his family, told The Sacramento Bee that "the whole town's on fire," while describing a scenario of "horror and chaos."
The strong winds and the dry conditions in the area have led to a rapid expansion of the fire. The smoke has even reached San Francisco, where an air quality alert was issued. The two other fires are smaller in size and have hit the southern part of the state.
One of the fires has affected the coastal town of Malibu, home to many Hollywood celebrities, as well as the city of Thousand Oaks, where a former US Marine killed 12 people at a bar on Wednesday night before taking his own life.
The Woolsey Fire, as the blaze is known, has forced 75,000 homes to be evacuated in Ventura and Los Angeles counties.
The fire has also affected the affluent city of Calabasas, where Kim Kardashian-West lives, who was evacuated on Thursday along with her three children.
The third blaze, the Hill Fire, broke out in Ventura County's Santa Rosa Valley.
(With IANS inputs)