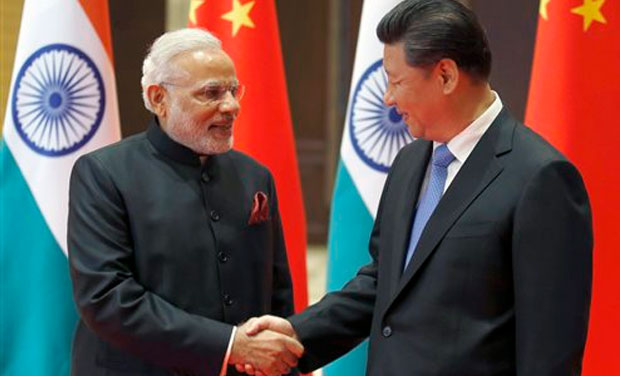 China has said that both Indian Prime Minister Narendra Modi and Chinese President Xi Jinping have agreed to try and put India-China ties in the "right direction".
According to Chinese Foreign Ministry spokesperson Hua Chunying, the two leaders have also agreed to "respect and accommodate" each other's concerns to avoid "impedance" relations.
Hua Chunying further said that the two sides have also agreed to enhance strategic communication between the two countries.
Modi and Xi met here on the sidelines of the G20 summit on September 4 amid differences over raft of issues.

 

"They agreed that efforts shall be made to orientate the development of China-India relations in the right direction," Chinese Foreign Ministry spokesperson Hua Chunying said in a written reply to PTI today about how China viewed the meeting.  
"The two sides also agreed to respect and accommodate each other's concerns and properly handle sensitive issues to avoid their impedance to the normal development of bilateral relations," Hua said in response to a question.  
In the bilateral meeting with Xi, Modi raised India's concerns over the USD 46 billion China-Pakistan Economic Corridor (CPEC) being laid through PoK and told Xi that "to ensure durable ties and their steady development, it is of paramount importance that we respect each other's aspirations, concerns and strategic interests".
Their meeting took place in the backdrop of steady decline in the relations over China's technical hold in UN over banning Pakistan-based terrorist group Jaish-e-Mohammad chief Masood Azhar and Beijing stalling India's bid to gain members of the Nuclear Suppliers Group (NSG) besides CPEC.  
Hua said the two leaders agreed to "enhance strategic communication, foster synergies between the development strategies of the two countries, expand exchanges and cooperation in various fields so as to further China-India strategic cooperative partnership".
After meeting Modi, Xi had said that "China is willing to work with India to maintain their hard-won sound relations and further advance cooperation".
"China and India should respect and care for each other on issues of major concern, and handle differences in a constructive way," Xi was quoted by state-run Xinhua news agency as saying.
(With PTI inputs)