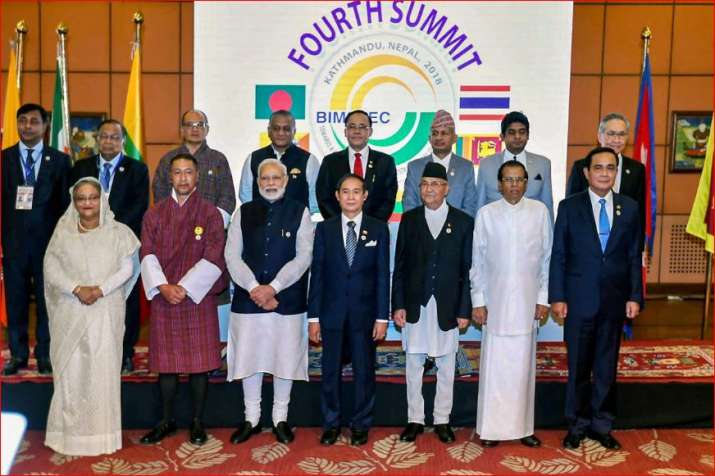 India and six other member states of BIMSTEC on Friday termed terrorism as a "great threat" to international peace and security.
The declaration issued at the end of the two-day 4th BIMSTEC summit called  for identifying and holding accountable States and non-State entities that encourage, support or finance terrorism, provide sanctuaries to terrorists and falsely extol their virtues.
The document, called Kathmandu Declaration, deplored terror attacks in all parts of the world including in BIMSTEC countries and stressed that there can be no justification whatsoever for any act of terrorism.
"Today's proceedings at the BIMSTEC Summit were extremely productive. We built on the ground covered yesterday and reiterated our commitment to further strengthen multilateral cooperation in diverse areas," Modi said.
"Terrorism and transnational organised crimes continue to pose a great threat to international peace and security including in the BIMSTEC countries," the Kathmandu declaration said as it strongly condemned terrorism in all its forms and manifestations wherever and by whomsoever committed.
The declaration, which was unanimously adopted by all the member states, said the "fight against terrorism should target not only terrorists, terror organisations and networks but also identify and hold accountable States and non-State entities that encourage, support or finance terrorism, provide sanctuaries to terrorists and terror groups and falsely extol their virtues."
The declaration did not name any specific country, but Pakistan is often accused by its neighbours, including India, of providing safe havens to terrorists.
It asked all nations to devise a comprehensive approach which should include preventing financing of terrorists and terrorist actions from territories under their control, blocking recruitment and cross-border movement of terrorists, countering radicalisation, countering misuse of internet for purposes of terrorism and dismantling terrorist safe havens.
It said that combating terrorism and transnational organised crimes require sustained efforts and cooperation and comprehensive approach involving active participation and collaboration of the Member States.
The declaration called for strengthening cooperation and coordination among the law enforcement, intelligence and security agencies of the member states, holding meetings at the level of BIMSTEC Home Ministers and the BIMSTEC National Security Chiefs.
The BIMSTEC is a regional grouping comprising India, Bangladesh, Myanmar, Sri Lanka, Thailand, Bhutan and Nepal. The grouping accounts for 22 per cent of the global population, and has a combined gross domestic product of USD 2.8 trillion.
The declaration also underlined the importance of multi-dimensional connectivity, which promotes synergy among connectivity frameworks in the region, as a key enabler to economic integration for shared prosperity.
It stressed the need for a fair, just, rule-based, equitable and transparent international order and reaffirming faith in the multilateralism with the United Nations at the centre and the rule-based international trading system.
In the declaration, the member states reiterated their pledged to work collectively towards making BIMSTEC a stronger, more effective and result-oriented organisation for achieving a peaceful, prosperous and sustainable Bay of Bengal Region.
They have also resolved to achieve, leveraging on BIMSTEC's position as a bridge linking South and Southeast Asia, an enhanced level of economic and social development in the region, and remain fully committed to consolidate and deepen cooperation among Member States towards transforming the organisation into an effective platform to promote peace, prosperity and sustainability.
The member states have also stressed on the need to accelerate progress in the core areas of cooperation and to review, restructure and rationalise the existing areas of BIMSTEC cooperation and streamline the operational modalities for activities, implementation of programmes and projects under BIMSTEC for bringing out tangible results.
The declaration also recognised that eradication of poverty is the greatest regional challenge in realising development objectives and expressed firm commitment to work together for implementing the Agenda 2030 for sustainable development.
At the end of the summit, Nepal Prime Minister K P Sharma Oli handed over the chairmanship of the grouping to Sri Lankan President Maithripala Sirisena.
Oli congratulated Sri Lanka for assuming the role as new host for BIMSTEC and extended thanks to the heads of states/governments of member states for their support in materialising the summit with success.
A Memorandum of Understanding was also signed on establishment of the BIMSTEC Grid Interconnection to enhance energy cooperation among the member states.
"The MoU provides for optimisation of using energy resources in the region & promotion of efficient & secure operation of power system, among other things," Ministry of External Affairs spokesperson Raveesh Kumar tweeted.
(With PTI inputs)