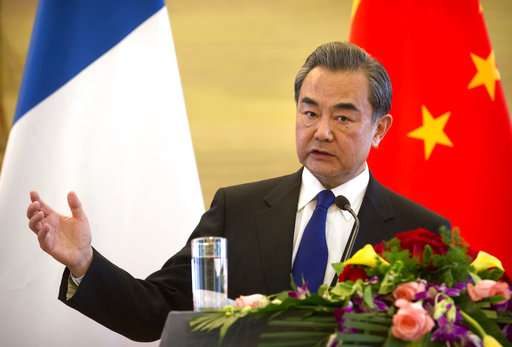 China on Monday welcomed as positive India's remarks that it was ready to develop relations with Beijing and sort out differences on the basis of mutual respect.
Last week, striking a positive tone about Sino-India ties, Chinese Foreign Minister Wang Yi said that both countries should be free of mental inhibition and build mutual trust.
Wang said the Chinese dragon and the Indian elephant must dance together, not fight.
India reacted in a similar tone, saying it was "willing to work with the Chinese side to develop our relations based on while dealing with differences on the basis of mutual respect and sensitivity to each other's interests, concerns and aspirations". 
Asked how Beijing viewed New Delhi's reaction to Wang's comment, Chinese Foreign Ministry spokesperson Lu Kang said: "We have noted such positive remarks by the Indian side. You must have noticed Foreign Minister Wang Yi's remarks concerning China-India relations last week. He elaborated on China's basic position on its relations with India. 
"We wish to work with the Indian side to take the important consensus between the two leaderships as our guidance to improve our mutual trust, enhance mutual beneficial cooperation, manage our difference and ensure the correct track of our relations' development."
Sino-Indian ties touched a new low last year when their armies faced off each other at Doklam in the eastern sector of their border. 
The 73-day stand-off, which nearly brought their armies to an armed conflict, was resolved in late August, just ahead of Prime Minister Narendra Modi China's visit to attend the BRICS summit.
Modi's meet with Xi on the sidelines of the event set the tone for positive ties. Since then, both sides have tried to repair the damage to their relations.
China's opposition to a UN ban on Pakistani terrorist, Masood Azhar, who has plotted deadly attacks at Indian Army bases, has also strained their relations.
Beijing's "no" to India's entry into the Nuclear Suppliers Group is also a vexed issue.
Besides, Beijing's Belt and Road project, whose key artery goes through Kashmir held by Pakistan and claimed by India, irks New Delhi.