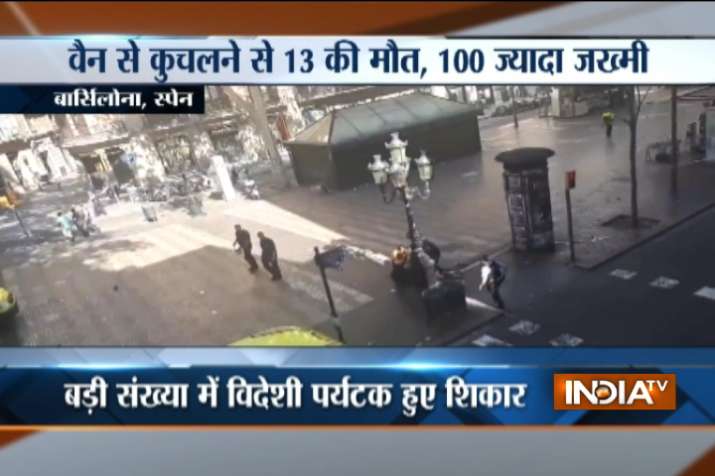 At least 13 people were killed and another 100 were injured on Thursday when a driver deliberately slammed a van into crowds on Barcelona's most popular street Las Ramblas in one of the deadliest terror attacks in Spain since 2004. Terror outfit Islamic State (ISIS) has claimed the responsibility for the attack. In a statement on its Aamaq news agency, the terror outfit claimed that the attack was carried out by "soldiers of the Islamic State" in response to the extremist group's calls for followers to target countries participating in the coalition trying to drive it from Syria and Iraq. India's External Affairs Minister Sushma Swaraj has confirmed that there is no report of any Indian casualty, adding that she is in constant touch with the Indian Embassy in Spain.
Highlights of Barcelona terror attack:
8:30am- 5 suspects killed in Spanish resort town were carrying bomb belts and had run over civilians with car, claim Catalan police in Cambrils
07:50am- UN Secretary-General Antonio Guterres condemns terrorist attack in Barcelona
07:40am - Fifth suspect shot and wounded in Cambrils has died, claim Spain Police
07:20am - Just hours after deadly attack in Barcelona, six civilians and one police officer were hurt when a car drove into people in the Spanish seaside resort of Cambrils early Friday, the regional government claimed.
06.05am - Four suspected terrorists shot dead  by Catalan police in Cambrils, a city south of Barcelona. Police shot four of the attackers dead and injured another one, saying they were "working on the hypothesis that the terrorists shot dead in Cambrils could be linked to what happened in Barcelona." 
05:02am - Spanish PM Mariano Rajoy says Barcelona van attack result of "jihadist terrorism". "Today the fight against terrorism is the principal priority for free and open societies like ours. It is a global threat and the response has to be global," he said.
03:52am - Driver in Barcelona van attack still on the run, says Barcelona Police
03:12am – Police says that one of the two men arrested was Moroccan and the other was from the Spanish enclave of Melilla in North Africa. However, none of them were driving the van
02:34am – Spain declares 3 days of mourning after Barcelona attack
12:59am - Islamic State (ISIS) claims responsibility for the van attack in Barcelona
12:35am - US President Donald Trump condemns Barcelona terror attack, offers help to Spain
The United States condemns the terror attack in Barcelona, Spain, and will do whatever is necessary to help. Be tough & strong, we love you!

— Donald J. Trump (@realDonaldTrump) August 17, 2017
12:20am – British PM says UK  "stands with Spain against terror"
11:49pm - No report of an Indian casualty, tweets union minister Sushma Swaraj
11:27 pm – Indian Embassy says no report of any Indian casualty
10:32pm – Local media puts the casualty figure at 13
9:30pm – Barcelona Police says Las Ramblas van incident is a 'terrorist attack'