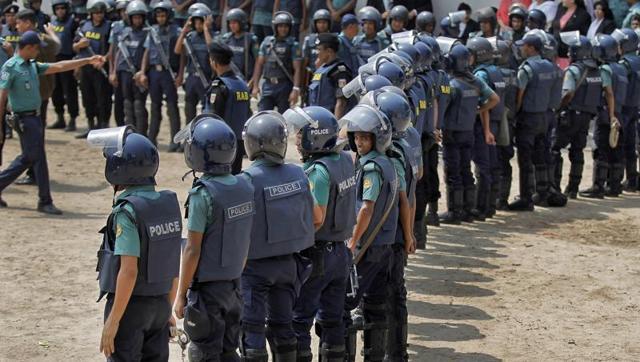 Dhaka: In the latest spate of violence against the minority Hindu community in Bangladesh, a Hindu priest was hacked to death on Friday at a temple in the Muslim majority country.
Shaymanonda Das, 45, was hacked to death in front of a temple in Jhinaidah district headquarter, 300km south west from the capital Dhaka.
"He was preparing morning prayers with flowers at the temple early in the morning and that time three young people came by a motor bike and killed him with machetes and fled away," said Mahbubur Rahman, the chief of Jhenaidah district administration.
"The nature of killing was similar with the local militants, but we can not say more at the moment," Mahbubur told Reuters by telephone.
The Muslim-majority but officially secular Bangladesh has witnessed a shard increase in brutal attacks on minorities and secular activists by Islamists.
On June 7, a 65-year-old Hindu priest was killed by three bike-borne assailants in the same district. Two days earlier, a Christian businessman was also hacked to death by unidentified machete-wielding men near a church,
There have been systematic assaults in Bangladesh in recent months specially targeting minorities, secular bloggers, intellectuals and foreigners.
In April, a liberal professor was brutally hacked to death by machete-wielding ISIS militants who slit his throat near his home in Rajshahi city. In the same month, a Hindu tailor was also hacked to death by ISIS militants in his shop.
The ISIS and Al-Qaeda in Indian Peninsula have claimed responsibility for some of the attacks although the government denies their presence in Bangladesh.
At least 12 people have been killed by suspected Islamist militants in the last fourteen weeks alone.
Four of them were butchered in April this year alone. Most of the slain activists had been outspoken critics of injustice and religious extremism, and the government's apparent inaction in bringing the perpetrators to justice.
The country's total population found to be 15.89 crore by 2015-end with the Hindu community numbering 1.70 crore against 1.55 crore in 2014.
The number of Hindus in Muslim-majority Bangladesh has grown by one per cent to 1.70 crore in one year constituting 10.7 per cent of the population by the end of 2015, an official report said on Thursday.