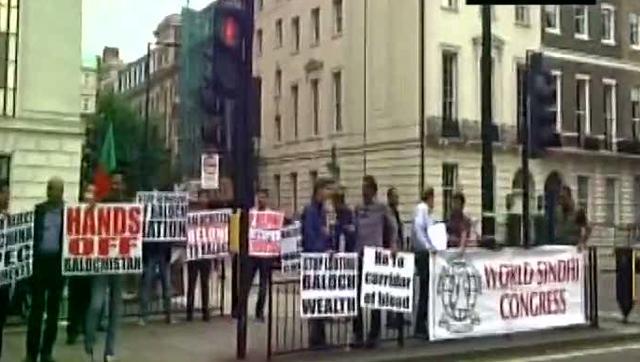 In a first, Baloch and Sindhi nationalist leaders jointly protested against the China-Pakistan Economic Corridor (CPEC) and rights violations outside the Chinese embassy in London on Sunday.
This is a first such joint protest by the activists belonging to different organisations for a common purpose of ceasing CPEC activities and preventing gross human rights violations, reported News agency ANI.
Apart from slogans of "azaadi," the leaders also chanted "Prime Minister Narendra Modi for Balochistan," "Kadam Badhao Modiji hum tumhare saath hain," "No to CPEC" and "Hai haq humara aazadi".
The umbrella protest includes the Sindhi Baloch Forum (SBF), the World Sindhi Congress (WSC), the Baloch National Movement (BNM), the Baloch Republican Party (BRP), the Baloch Human Rights Council UK (BHRC-UK), the Baloch Students and Youth Association (BSYA) and the Baloch Students organisation.
"We are protesting outside the Chinese embassy against the CPEC. Pakistan wants to forcefully impose the CPEC on Balochistan. We are being shown as a minority community...whatever we are doing...it's for our basic rights," Baloch activist Hakeem Wadela told ANI.
"China and Pakistan want that Balochistan bows down. They want to give the resources of Balochistan to Punjab and China. We will stand against it," Niaz Baloch told ANI.
Modi's remarks have focussed attention on the movement by Baloch nationalist leaders to highlight issues such as rights violations and enforced disappearances.

During his Independence Day speech, Indian Prime Minister Narendra Modi had highlighted the troubles of the Baloch people.