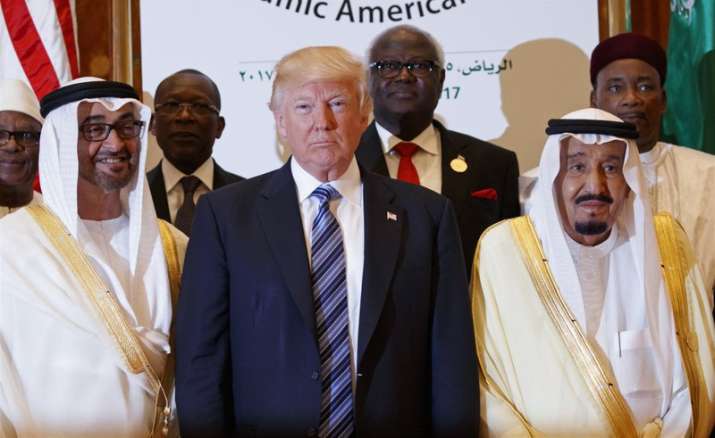 United States President Donald Trump on Sunday acknowledged India as "victim of terrorism". Speaking at the Arab-Islamic-US Summit at Riyadh, Trumps' comment came before leaders of Islamic nations including Pakistan Prime Minister Nawaz Sharif. 
Trump vowed that he would work with all nations as the US to India and Australia to Russia have been "victim of terrorism and have witnessed several barbaric attacks."  
Without naming Pakistan, Trump implored Saudi Arabia and other Middle Eastern countries to extinguish "Islamic extremism" emanating from the region, describing a "battle between good and evil" rather than a clash between the West and Islam.
"We are not here to lecture — we are not here to tell other people how to live, what to do, who to be, or how to worship," Trump said, speaking in an ornate room in the Saudi capital. "Instead, we are here to offer partnership — based on shared interests and values — to pursue a better future for us all."
The president's address was the centerpiece of his two-day visit to Saudi Arabia, his first overseas trip since his January swearing-in. For Trump, the trip is a reprieve from the crush of controversies that have marred his young presidency and an attempt to reset his relationship with a region and a religion he fiercely criticized as a candidate.
During the 2016 U.S. campaign, Trump mused about his belief that "Islam hates us." But on Sunday, standing before dozens of regional leaders, he said Islam was "one of the world's great faiths."
While running for the job he now holds, Trump heartily criticized President Barack Obama for not using the term "radical Islamic extremism" and said that refusal indicated that Obama did not understand America's enemy. In his Saudi speech, Trump condemned "Islamic extremism," ″Islamists," and "Islamic terror," but not once uttered the precise phrase he pressed Obama on.
Some of Trump's wording on the issue also changed from his prepared remarks. A White House official later said that was not intended and attributed it to the president being "an exhausted guy."
Trump made no mention of the disputed travel ban, signed days after he took office, that temporarily banned immigration to the U.S. from seven majority Muslim countries: Iraq, Iran, Syria, Sudan, Libya, Somalia, and Yemen. Both the original order and a second directive that dropped Iraq from the banned list have been blocked by the courts.
In some ways, Trump delivered a conventional speech for an American politician. He pledged deeper ties with the Middle East to tackle terrorism and encouraged more economic development in the region. He heralded the ambitions of the region's youth and warned that the scourge of extremism could tarnish their future.