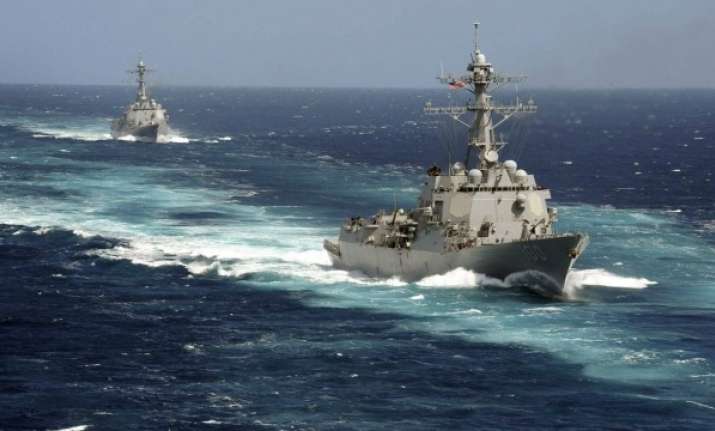 The India-China military stand-off went a step further on Monday with the Chinese warships seen involved in unusual activity in the Indian Ocean. Amid the heightened tensions between the two Asian giants, the Navy is closely monitoring "an unusual surge" in the number of Chinese warships in the Indian Ocean Region (IOR), says a Times of India report.  
The move from Beijing follows its response to Defence Minister Arun Jaitley's remarks that India of 2017 is different from what it was in 1962, saying it is too different and will take "all necessary measures" to safeguard its territorial sovereignty. 
Reacting to China's oblique reference to the war the two countries had fought 55 years ago and asking India to learn from "historic lessons", Jaitley had said last week, "If they are trying to remind us, the situation in 1962 was different an India of 2017 is different."

 

With regards to development in the Indian Ocean, a Chinese Yuan-class conventional submarine is prowling the waters, after an operational turnaround in Karachi and backed by support vessel Chongmingdao, since April. 
According to the report, this is the seventh Chinese submarine to enter the region – China usually alternates a nuclear submarine with a diesel-electric one – since December 2013. 
Moreover, a Chinese intelligence-gathering ship Haiwingxing is also reported to have entered the IOR last week to snoop on the India-US-Japan Malabar naval exercise in the Bay of Bengal from next week. China has deployed such ships in the past also to keep tabs on the Malabar exercise, which it suspects is a naval grouping aimed to contain its growing influence. 
"The fast pace of construction of the Chinese base and support facility at Djibouti will only add to its capability to sustain its naval units in the IOR," a source was quoted by Times of India as saying. 
China and India have refused to budge from their positions over the standoff between their troops in Donglong, which the Chinese claim as their territory and which India calls a disputed region between China and Bhutan.
Tensions have been building up between the two Asian giants. A Chinese expert said that war between the two countries could not be ruled out.