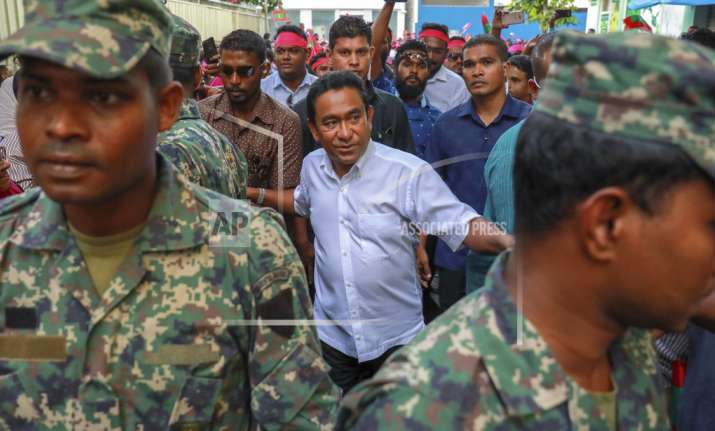 As political crisis continues in Maldives, India has asked its nationals to defer all non-essential travels to the country and urged expatriates to remain on alert due to the recent developments.
"The prevailing political developments in Maldives and the resultant law and order situation is a matter of concern for the government. Indian nationals are, therefore, advised to defer all non-essential travels to Male and other atolls until further notice," the MEA said in a statement.
"Indian expatriates in Maldives are also alerted to the need for heightened security awareness, and urged to exercise due caution in public and avoid public gatherings," the statement added.
ALSO READ | Amid political standoff, Maldives President Yameen Abdul Gayoom declares state of emergency for 15 days
This comes immediately after beleaguered Maldivian President Abdulla Yameen declared a 15-day state of emergency. 
In a statement, the MEA had also said it was "closely monitoring" the evolving situation in the Maldives and also hoped that the safety and security of Indian expatriates in the island nation would be ensured by the Maldivian authorities under "all circumstances".  It said that as a close and friendly neighbour, India wishes to see a stable, peaceful and prosperous Maldives. 
The Maldivian Supreme Court, in a significant development, had last week ordered the immediate release of former president Mohamed Nasheed and other opposition leaders. Reacting to the development, India had said it was imperative for "all organs" of the Maldivian government to abide by the country's Supreme Court order to release all political prisoners "in the spirit of democracy". 
The island nation has been witnessing political unrest and street protests since Nasheed was convicted in 2015 on terror charges and sentenced to 13 years in jail. 
Nasheed was earlier granted asylum by the UK after he was authorised to seek medical treatment there amid mounting foreign pressure. The leader, who is currently in Sri Lanka, welcomed the court order and said President Abdulla Yameen must resign in the wake of the ruling by the apex court.