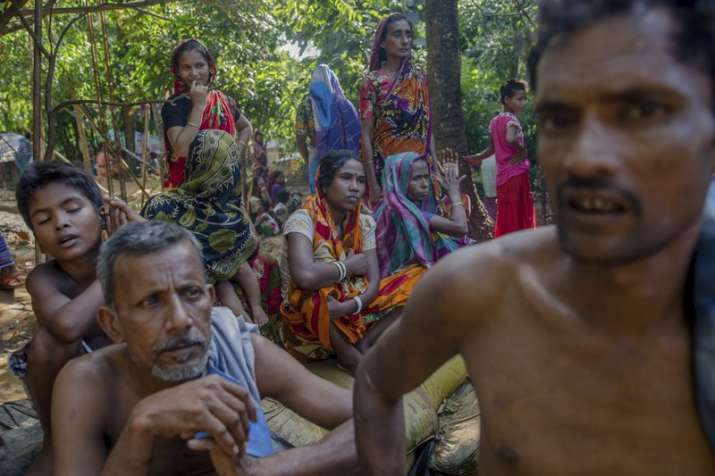 Human rights NGO Amnesty International has claimed that a Rohingya armed group brandishing guns and swords massacred up to 99 Hindu women, men, and children inside Myanmar's Rakhine State in August 2017.
In a report, Amnesty International claimed on Tuesday that the Arakan Rohingya Salvation Army (ARSA) fighters sowed fear among Hindus and other ethnic communities with these brutal attacks.
"Our latest investigation on the ground sheds much-needed light on the largely under-reported human rights abuses by ARSA during northern Rakhine State's unspeakably dark recent history," Crisis Response Director at Amnesty International Tirana Hassan said.
"It's hard to ignore the sheer brutality of ARSA's actions, which have left an indelible impression on the survivors we've spoken to. Accountability for these atrocities is every bit as crucial as it is for the crimes against humanity carried out by Myanmar's security forces in northern Rakhine State," she added.
Also Read: Are Rohingya Muslims victims or mass murderers? 
According to the Amnesty report, at around 8 am on 25 August 2017, ARSA attacked the Hindu community in the village of Ah Nauk Kha Maung Seik, in a cluster of villages known as Kha Maung Seik in northern Maungdaw Township.
The armed men dressed in black and local Rohingya villagers in plain clothes rounded up dozens of Hindu women, men and children. 
They robbed, bound, and blindfolded them before marching them to the outskirts of the village, where they separated the men from the women and young children, the report added.
"They slaughtered the men. We were told not to look at them … They had knives. They also had some spades and iron rods. … We hid ourselves in the shrubs there and were able to see a little … My uncle, my father, my brother – they were all slaughtered, " 18-year-old Raj Kumari, a survivor of the massacre, told Amnesty.
Also Read: 'Over 100 Hindus abducted and killed by Rohingya Muslims in Myanmar, women forced to convert' 
The victims from Ah Nauk Kha Maung Seik include 20 men, 10 women, and 23 children, 14 of whom were under the age of eight. The same day,  46 Hindu men, women, and children in the neighbouring village of Ye Bauk Kyar disappeared. 
If Hindus of the northern Rakhine State are to be believed, all 46 members of their community were killed by the same ARSA fighters.
Combined with those from Ah Nauk Kha Maung Seik, the total death toll is believed to be 99, the Amnesty report added.