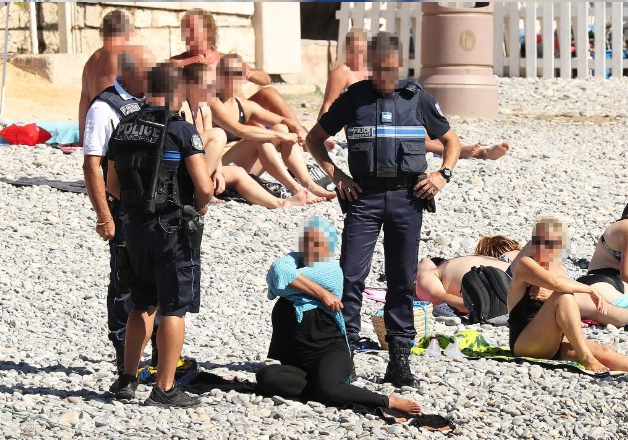 Armed police officers at a beach in France's Nice city yesterday forced a woman to remove some of her clothing as part of the city's controversial ban on the burkini.
According to reports, the incident in Nice took place at the city's Promenade des Anglais, site of last month's Bastille Day truck attack.
The photographs show officers, armed with guns and batons, standing around the woman, who was lying on the beach in a blue headscarf and a matching top.
Local authorities said that the police officers were simply exercising their duties.
Christian Estrosi, deputy major of Nice, denounced the photos saying, "I condemn these unacceptable provocation."
Burkini, a full-length swimsuit that covers the whole body except face, hands and feet, is favoured by many Muslim women. Nice is one of 15 towns that have banned burkini.
Officials said that the ban is a response to growing terror concerns.
The burqini ban was first adopted in Cannes, whose mayor called the full-body swimsuit a 'symbol of Islamic extremism'. Since then, at least 15 towns across the country have implemented bans prohibiting people from wearing the swimwear on beaches.
This was the second incident of its kind in recent days. A 34-year-old mother was fined 38 euros (over Rs 2600) on a Cannes beach earlier this week after she was confronted by three police officers.
Meanwhile, a leading French Muslim body has requested an urgent meeting with the government to discuss the ban following the incident in Nice.