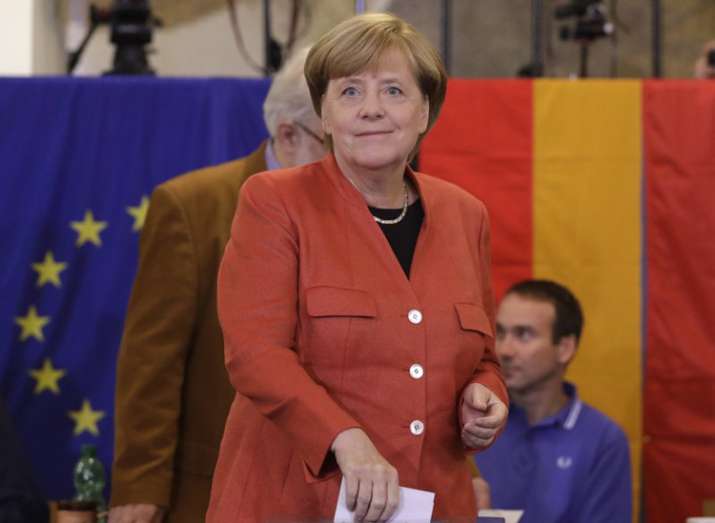 Chancellor Angela Merkel cast her vote Sunday in Berlin, confident of a fourth term in office with her conservative bloc enjoying a wide lead in the final polls, while the nationalist, anti-migrant Alternative for Germany party seemed poised to win seats in parliament for the first time.
Merkel campaigned on her record as chancellor for 12 years, emphasizing the country's record-low unemployment, strong economic growth, balanced budget and growing international importance.
That's helped keep her conservative bloc well atop the polls ahead of the center-left Social Democrats of challenger Martin Schulz.
In Berlin, which also hosted its annual marathon Sunday, many streets were blocked and some voters had to cross the marathon's route as runners zigzagged their way through the German capital. A festive mood emerged, with local bands playing on street corners and bystanders cheering and applauding.
Merkel arrived in the early afternoon to vote with her husband Joachim Sauer, whose umbrella shielded them from the cold drizzle. Merkel nodded and smiled at reporters as they left the polling station but made no comment.
Schulz voted with his wife Inge in his hometown of Wuerselen in western Germany.
Merkel's conservative Christian Democratic Union and its sister party, the Bavaria-only Christian Social Union, have governed the country for the last four years with the Social Democrats in a so-called "grand coalition." Most forecasts suggest that coalition will win another majority in Sunday's election outcome, but several different coalition government combinations could be possible.
The latest polls had Merkel's conservative bloc at 34 to 37 percent support, the center-left Social Democrats with 21 to 22 percent and the anti-migrant Alternative for Germany, or AfD, with 10 to 13 percent support, enough to get into parliament.
If that happens, it would make AfD the farthest right-wing party in parliament for nearly six decades.
In addition to the AfD, the Greens, the Free Democratic Party and the Left Party were all poised to enter parliament with poll numbers between 8 and 11 percent.
Many of the country's 61.5 million voters had remained undecided until the very last moment, according to the polls. That included Bernhard Sommerfeld, a 62-year-old book seller who cast his vote Sunday morning in Berlin.
"I was really undecided," said Sommerfeld, who declined to say who he voted for. "It was very difficult."
Voter turnout around noontime was up in many parts of the country compared to four years ago, the German news agency dpa reported.
In the northern city of Hamburg, some 37.4 percent had voted compared to 35.4 percent in 2013. In Munich, 57.1 percent had cast their vote at noon, more than the 44.3 percent four years ago.
Germany's president, Frank-Walter Steinmeier, appealed to his fellow citizens to go out and vote, because "these elections are also about the future of democracy and the future of Europe."
Countries across Europe have seen a rise of anti-migrant and populist parties in recent elections and several German pollsters have forecast that AfD may come in as third-strongest party.
The AfD has led an aggressive campaign dominated by hostile slogans against the more than 1 million, mostly Muslim migrants who arrived in Germany in the last two years. They're aiming to grab votes from conservatives who in the past have voted for Merkel's party, but are unhappy with her welcoming stance toward refugees.