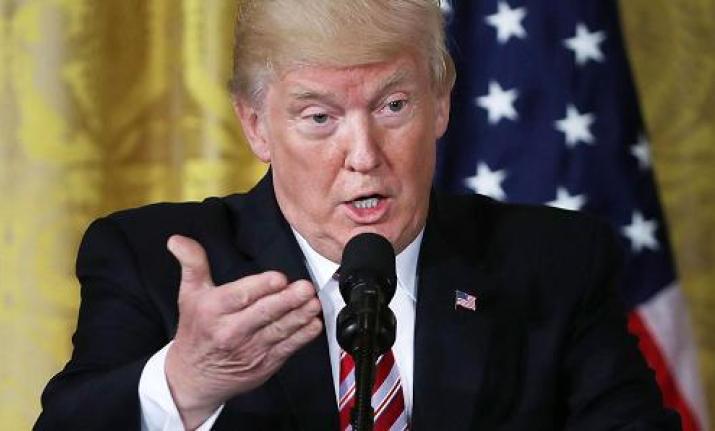 Just before the historic meeting with Kim Jong Un, the US President Donald Trump met Singapore Prime Minister Lee Hsien Loong on Monday. 
Trump met Lee at the presidential palace Istana, where they discussed about the summit preparations and even the US' tariff threats. 
Trump was accompanied by Secretary of State Mike Pompeo, National Security Adviser John Bolton, White House Press Secretary Sarah Sanders and White House Chief of Staff John Kelly. 
Lee also hosted a working lunch for Trump and his delegation. At the lunch, Trump expressed his hopefulness for Tuesday's meeting with Kim and thanked Lee for his hospitality. 
"We have a very interesting meeting tomorrow, and I think things can work out very nicely. But we appreciate your hospitality and professionalism and your friendship," said Trump. 
Earlier, Trump tweeted it was "great to be in Singapore, excitement is in the air". 
Great to be in Singapore, excitement in the air!

— Donald J. Trump (@realDonaldTrump) June 11, 2018
On Monday, Sung Kim, who was a former US ambassador to South Korea and nuclear negotiator with the North, will lead a US delegation for a working group with a North Korean delegation at the Ritz Carlton hotel, Sanders said. 
"We are also planning a briefing by senior administration officials in the filing centre at the JW Marriott tentatively scheduled for 5 pm local time," he said in the briefing note issued in Washington on June 10. 
While Kim Jong Un on Sunday held a meeting with Prime Minister Lee. He thanked Singapore's organisation of the summit as if it was "their own family affair". They discussed bilateral relations as well as the summit and the recent positive developments on the Korean peninsula. 
Lee complimented the bold and admirable decision by Kim and Trump to come together for the Summit. 
Prime Minister Lee wished Kim a success for the summit and expressed hope that the US-North Korea meeting will help in finding peace and stability in the Korean peninsula. 
Singapore is one of the few countries that have diplomatic relations with both the US and North Korea.
Trump and Kim are set to meet on June 12 at the Capella Hotel on Sentosa for talks which could see North Korea dismantle its nuclear arsenal in return for economic help and security guarantees. 
The summit will be the first time when Trump and Kim will meet and mark an improvement of relations between the two leaders after a long-running exchange of threats and insults. 
Some 2,500 journalists are reporting on the event, which is costing Singapore government about SGD 20 million.
(with PTI inputs)