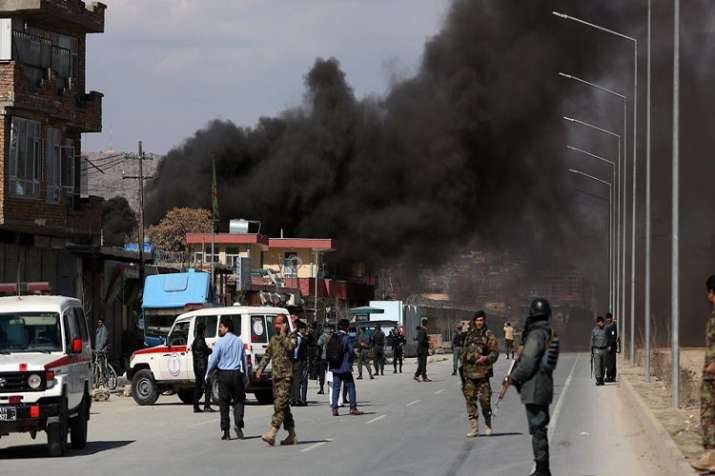 At least 21 people were killed and more than 40 others injured in Nangarhar province in eastern Afghanistan as Taliban fighters gathered to celebrate a three-day ceasefire marking the Islamic holiday of Eid-al-Fitr on Saturday. Most of the dead are believed to be dead, said the Nangarhar provincial Police Chief Ghulam Sanayee Stanikzai.
The devastating explosion came as previously unthinkable scenes of unarmed Taliban fighters celebrating Eid, often alongside Afghan security forces, played out in cities throughout the war-shattered country on Friday and again on Saturday.
Within hours of the explosion, President Ashraf Ghani announced he would extend a nine-day cease-fire that was to expire on Sunday and which he had unilaterally announced last week. The cease-fire was to end at the conclusion of the Eid holiday, which follows the monthlong fasting month of Ramadan.
Ghani offered no details of the extension, including how long it would be in effect. The Taliban's leader, Haibatullah Akhunzada, on Monday separately announced a three-day truce to mark the Eid holiday. The Taliban cease-fire took effect at midnight on Thursday.
Ghani in his statement announcing the extension called on the Taliban to reply in kind. He also said that a cease-fire could be accompanied with visits to their prisoners and treatment for their fighters at hospitals in Afghanistan.
Ghani also repeated his promise that everything could be on the negotiation table, including the presence of foreign forces.
Earlier this week Taliban leader Akhundzada said he wanted direct talks with the United States before engaging in negotiations with the Afghan government. There was no immediate Taliban reply to Ghani's latest offer of an extension.
In a statement Saturday, U.S. Secretary of State Mike Pompeo welcomed Ghani's offer of an extension to the cease-fire, adding that the U.S. "stands ready to work with the Afghan government, the Taliban, and all the people of Afghanistan to reach a peace agreement and political settlement that brings a permanent end to this war."
While no one has yet claimed responsibility for Saturday's explosion in Rodat district of eastern Nangarhar province, the Islamic State affiliate, which did not sign on to the cease-fire, has a strong presence in the area. Previously, IS fighters have clashed with Taliban, who have rejected their demands for a caliphate.