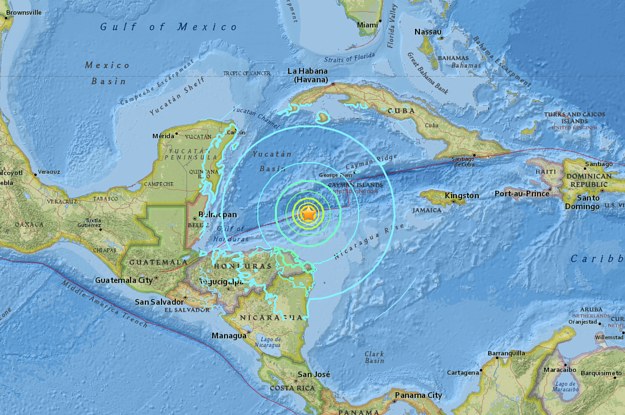 A magnitude 7.6 earthquake has struck in the Caribbean Sea between the coast of Honduras and the Cayman Islands on Tuesday night, the United States Geological Survey (USGS) said.
As per reports, the quake struck in the sea about 125 miles (202 kilometers) north-northeast of Barra Patuca, Honduras, and 188 miles (303 kilometers) southwest of George Town, Cayman Islands. The tremor occurred about 6 miles (10 kilometers) below the surface.
Though there are no early reports of damage on land, but the US National Tsunami Warning Center warns of tsunami dangers in Puerto Rico, Jamaica, other islands and the coast of Central America. Reports say that earthquake was also lightly felt in the Mexican state of Quintana Roo, north of Honduras.
Meanwhile, President Juan Orlando Hernandez said that Honduras has activated its emergency system and asked people to remain calm.
In the Cayman Islands, Sgt. Dave McKay with Royal Cayman Islands Police told The Associated Press that hazard management officials had not issued a tsunami alert but authorities were monitoring the situation.
-With AP inputs