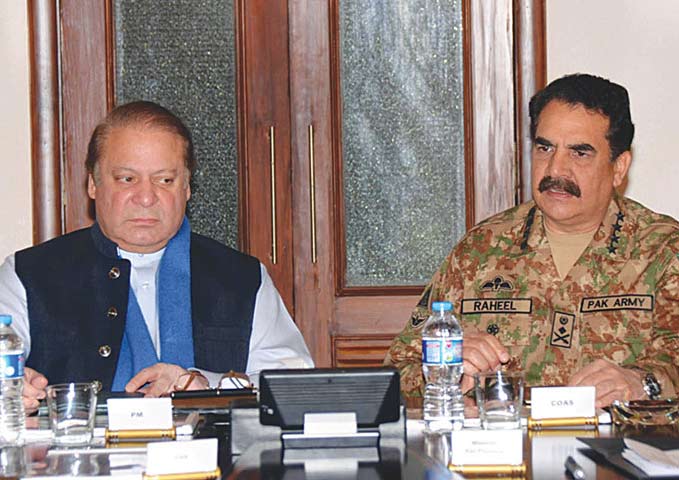 In stark contrast to the ground realities, the Pakistan Army on Thursday claimed to have cleared the entire country of "organised presence" of terrorists. 
The army said that it has killed over 3,500 militants under its military operation 'Zarb-e-Azb'. 
Military spokesman Lt Gen Asim Saleem Bajwa said at a press briefing that since the the operation against terrorists in June 2014, armed forces have achieved "major successes" in the fight against terrorism. 
"I can say that there is no hideout of militants in any area of Pakistan as we have cleared all area of organised presence of militants," he said. 
Contrary to Bajwa's claims, UN sanctioned terrorists like Hizbul Mujahideen's Syed Salahuddin, Jaish-e-Mohammed's Maulana Masood Azhar and Lashkar-e-Toiba's Hafiz Saeed roam free in Pakistan. 
"The salient operational guidelines for the operation were that it would be an indiscriminate operation, collateral damage would be avoided and human rights would be taken into consideration," Bajwa said. 
He said more than 3,500 militants have been killed since the operation was launched while 537 soldiers lost their lives and another 2,272 injured. 
"Terrorism was rampant in the country in 2014, which is before Operation Zarb-e-Azb was launched, he said, adding that there were about 311 IED blasts, 74 attacks, and 26 suicide blasts." 
"There was enough explosive material there to carry out five IED blasts every day for 21 years. They could have caused 134,000 casualties with the amount of material we recovered, Bajwa added. 
He said more than 21,000 intelligence based operations were conducted in the country and succeeded to break the nexus between militants, facilitators and financiers.
"We have two challenges: first managing 2,600 km border with Afghanistan and honourable return of 3 million Afghan refugees," he said. 
He said loopholes on the border will be plugged as government will set up 18 regular crossing points where only those having proper documents will be allowed to cross. 
Bajwa said that Daesh (ISIS) has been smashed as its entire core leadership of about 20-25 militants have been arrested, including Pakistan chief of Daesh, Hafiz Umar. 
He said a total of 309 supporters and operatives of Daesh were nabbed in countrywide operations. The threat of ISIS is now from Afghanistan where it is present in at least three border provinces of Kunar, Nangarhar and Khost. 
The claim by the army comes two days after US Secretary of State John Kerry said in Delhi that it was a well known fact that LeT and Haqqani network have operated from Pakistan. 
"It is well known that the Haqqani network and others operated out of the western part of the country. LeT, we all know and we all spoken out against had an impact on India, directly. It is vital that Pakistan join with other nations in tackling this challenge, and in fairness, in recent weeks and months they have been moving more authoritatively," he said. 
"I have recently spoke to the Prime Minister and General Raheel Sharif regarding the need for Pakistan to deprive any group sanctuaries," Kerry said. 
External Affairs Minister Sushma Swaraj, who was present at joint media conference with Kerry, said that both had reaffirmed the necessity for Pakistan to dismantle safe havens provided to LeT, JeM and D-Company. 
"We agreed that nations must not maintain double standards, such as the categorization of good and bad terrorists. We reaffirmed the urgent necessity for Pakistan to dismantle safe havens provided to LeT, Jaish-e-Mohammad and D-Company," Swaraj said.