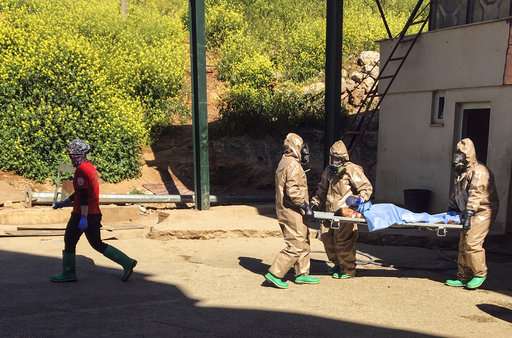 The United Nations Children's Fund (UNICEF) has said that at least 27 children were killed in the chemical attack in Idlib province of Syria on Tuesday.
The UNICEF further added that the casualty figures are expected to rise further.
Demanding all concerned parties involved in the ongoing conflict to put an end to this king of horror, UNICEF Regional Director, Geert Cappelaere said that the killing of Children in Syria cannot be allowed to go on.  
UNICEF and partners continue to respond to the attack by supporting three mobile clinics and four hospitals to provide first aid and treatment, and nine ambulances to refer and transport patients to hospitals in the area.
UNICEF is also delivering critical medical supplies and working with health partners to raise awareness about medical response to chemical attacks, the press release added. 
UN Secretary-General Antonio Guterres on Tuesday said he is deeply disturbed by reports of alleged use of chemical weapons in an airstrike in Idlib.
Media reports said about 70 persons were killed and 200 others were wounded Tuesday in a gas attack in a rebel-held area in southern Idlib.
Also on Tuesday, a senior Syrian military officer denied reports of military toxic attack on rebel-held area in Idlib. The senior officer, who spoke on condition of anonymity, said the rebels were the ones using the toxic gas against civilians to frame the Syrian army.
Earlier in the day, the Syrian Observatory for Human Rights said warplanes carried out intensive airstrikes on the rebel-held town of Khan Sheikhoun in the countryside of Idlib province, killing dozens of people, mostly civilians.
(With IANS inputs)