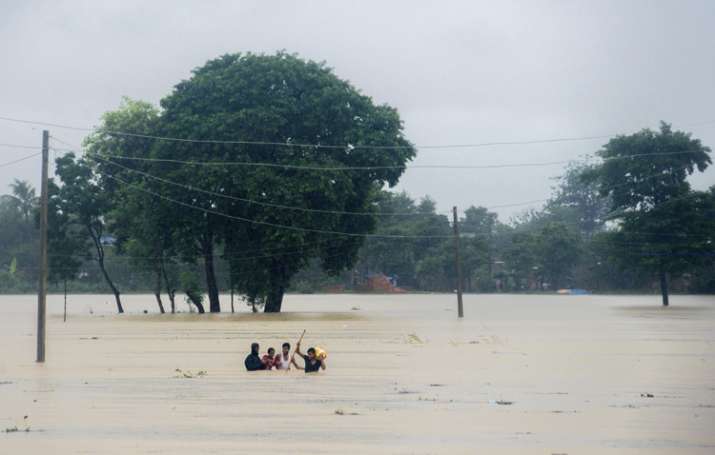 At least 55 people have died and nearly 700 tourists, including 200 Indians, stranded at a popular tourist district in central Nepal due to flooding and landslides triggered by heavy rainfall, officials said today. Heavy rainfall has lashed Nepal for the past three days, swelling several Himalayan rivers beyond the danger mark and causing flooding and landslides at many places in the country. The river Rapti, which flows through a large part of Nepal towards the southern plains, flooded human settlements and hotels popular with tourists in the Chitwan Valley. 
The valley is home to Nepal's first national park. More than 100 hotels have been partially submerged in Chitwan. Over 1,000 houses have been inundated in the Parsa district, further south, The Himalayan Times reported. 
Of the 700 tourists stranded in Sauraha in the Chitwan National Park, nearly 200 were from India and about the same number from other countries. The rest were Nepalese citizens. Suman Ghimire, chairman of the Regional Hotel Association, said the tourists trapped by flooding in Chitwan were being rescued with the help of elephants and boats. 
A hotelier said Nepal's home ministry has been approached for government support to help them battle out of the problem. 
Authorities said that at least 49 people have died due to the flooding and landslides until Sunday afternoon. Thirty six people have been reported missing until now, they added. Meanwhile six members of a family were killed in a landslide in Makawanpur district of central Nepal. 
The Nepal Army rescued more than 1,000 flood-hit people from across the country. 
Nearly 500 people were rescued from Sunsari district and 270 from Jhapa district. Three hundred students trapped in Jagatpur area of Chitwan were rescued by a MI?17 helicopter disptached from Kathmandu, Nepal Army headquarters said. 
Chitwan's Chief District Officer Narayan Prasad Bhatta said four rubber rafts have been sought from the neighbouring Devghat administration to carry out rescue operations.
The meteorological department forecast says central and western plains were likely to receive more rainfall over the next couple of days. The monsoon, it added, was gradually getting weaker in the east and moving towards the west. 
Twenty one districts have been badly hit by flooding and landslides. 
A Kathmandu Post report said that public health experts have warned of water-borne epidemic in the flood-hit areas. 
It cited the experts as saying that the flooding this monsoon have hit mainly the human population, affecting over six million people in the plains which could trigger epidemic. 
Transportation via the East West Highway, one of the longest in the Himalayan country, has been suspended after a pillar at a connecting bridge was washed away in the flooding. 
Yesterday, the Nepal government Cabinet held an emergency meeting and Prime Minister Sher Bahadur Deuba ordered district officials to intensify rescue operations.