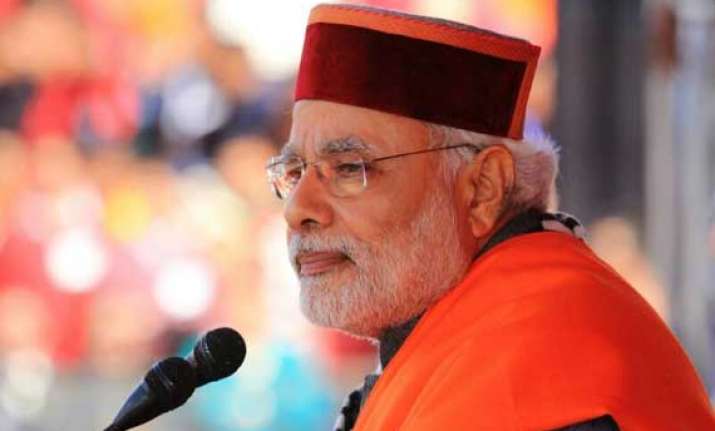 Palampur, Himachal Pradesh: BJP leader Narendra Modi Tuesday made a passionate appeal to voters here to extend support to him by ensuring victory on 300 Lok Sabha seats.
Modi, at his first election rally in this town of Kangra district, said: "The Congress is a party that betrays people. It is a 'dhokhe baaz' (betrayal) party."
He described the Congress manifesto as a fraudulent document.
"Yeh Congress ka ghoshna patra nahin, dhokha patra hain (This is not Congress manifesto but a fraudulent document)," he said.
Donning a Himachali cap, Modi appealed to the voters to "give us 300 lotuses and we will give India a strong government".
He played an emotion card with the people of Himachal Pradesh by narrating Kargil martyr Capt Vikram Batra's slogan "Yeh Dil Mange More" thrice in his half-hour-long speech.
Capt Batra, who died in the Tiger Hill in the Kaksar sector of Jammu and Kashmir in the 1999 Kargil War with Pakistan, belonged to this town and his mother Kamal Kanta Batra is the Aam Aadmi Party candidate from the Hamirpur constituency.
"See how the Congress has misled the servicemen over 'one rank, one pension'. They have been doing it for the past so many elections," he said.