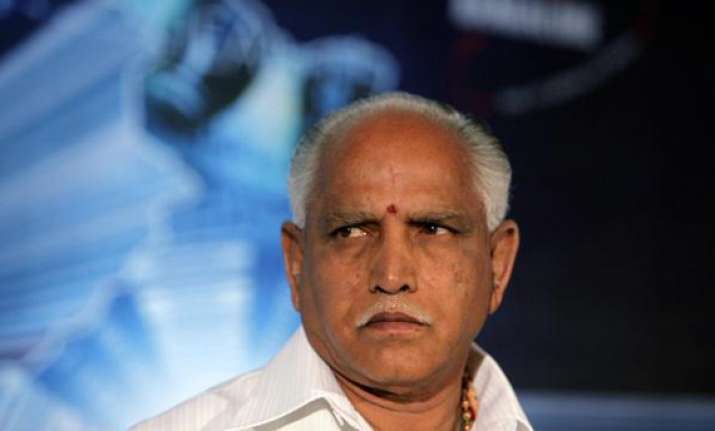 Bangalore, Oct 15: A Lokayukta court on Saturday sent former Karnataka chief minister B S Yeddyurappa to judicial custody till October 22 after the latter surrendered in court dodging the Lokayukta police.
 
The former chief minister was immediately sent to Bangalore central jail, where he underwent a medical checkup.
 
In court, Yeddyurappa's lawyer made a last-ditch effort to prevent his incarceration by pleading for five days time on health grounds, but the judge rejected the plea.
 
Yeddyurappa's lawyer said, they would appeal against the court's order in Karnataka High Court on Monday.
 
Earlier, the Lokayukta court rejected  the bail plea of  Yeddyurappa and issued arrest warrant against him in two cases relating to alleged land scams. Soon after, policemen reached Yeddyurappa's residences to serve the warrant.

Another accused, former minister S N Krishnaiah Setty, was sent to judicial custody till October 22 by Lokayukta special judge N K Sudhindra Rao, who granted relief to Yeddyurappa's sons, B Y Raghavendra, MP, and B Y Vijendra as also his son-in-law Sohan Kumar and BJP MLA Hemachandra Sagar and ten others.

Reading out his order in a packed court, the judge said he has rejected the bail pleas of Yeddyurappa and Setty but allowed those of 14 others.

This is the first time in Karnataka's history that a former chief minister has been issued an arrest warrant.  PTI adds: The court also rejected the applications moved by Yeddyurappa seeking exemption from personal appearance on grounds that he was suffering from severe back pain and unable to take the stairs.

The court verdict comes as an embarrassment to the BJP especially when BJP President L K Advani is on a nationwide yatra to highlight alleged corruption in the UPA government.  Yeddyurappa and others have been named as accused in two private complaints filed by advocate Sirajin Basha for alleged irregularities in denotification of lands.

Yeddyurappa's family members were directed to furnish a bond for Rs five lakh and Rs 10 lakh as surety in the two cases for their bail and also submit to the court chartered accountant certified copies of the bank accounts of Davalagiri Properties and Adarsh Homes Pvt Limited owned by them. 

The court directed the remaining accused enlarged on bail to furnish a bond for Rs five lakh and slapped conditions that they should not tamper with evidence and not make any attempt to flee the country.

Setty collapsed as the court pronounced the order, while Yeddyurappa skipped the proceedings citing health reasons.  Seeing Setty's condition, the judge directed officials to provide proper treatment before taking him to jail. 

Yeddyurappa, who steered the party to victory to install the first BJP government in the south, quit as chief minister after being indicted by Lokayukta report on illegal mining in July.
Minutes after learning about the court order, Chief Minister D V Sadananda Gowda cancelled his trip to Mumbai and was closetted with some of his ministerial colleagues, including Home Minister R Ashoka.

Basha has alleged Yeddyurappa denotified lands in Arakere, Agara, Devarachikkanahalli, Geddalahalli in favour of the accused causing huge losses to the state exchequer.  Ravi B Naik, Yeddyurappa's counsel said, the former chief minister would challenge the Lokayukta court order in the High Court. Yeddyurappa would also seek bail from the High Court. 

Naik said Yeddyurappa would surrender before the Lokayukta court if the High Court asks him to do so.  The chief minister also summoned City Police Commissioner Jyoti Prakash Mirji and state's Intelligence wing chief Gopal Hosur for discussions.

People gathered in large number outside Yeddyurappa's Race Course residence as a police team entered with the arrest warrant.

In Delhi, BJP today said the party will "legally" fight the cases involving former chief minister B S Yeddyurappa, whose bail plea was rejected by a Lokayukta court in Karnataka, but maintained that it will stick to "zero tolerance against corruption".

The main opposition party also lashed out at Congress for its remarks on the issue, saying the latter had no moral right to comment on corruption as it itself was "neck-deep" into it.  "We will certainly fight the issue legally, but BJP will adopt a zero tolerance towards corruption," said party spokesman J P Nadda.

On extending the party's support to Yeddyurappa, Nadda said, "Legally we will be there, but at the same time, the party would have zero tolerance towards corruption." Hitting out at Congress on corruption issue, the BJP leader said it had failed to take action against its leaders involved in many scams.