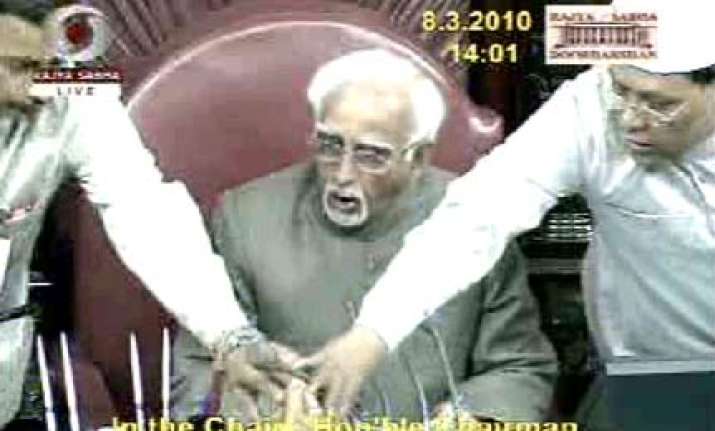 The 13-year-old jinx on the women's  reservation bill failed to be broken on Monday  in the Rajya Sabha where voting on it was deferred after unruly scenes and threats of withdrawal support to the UPA government by SP and RJD, raising questions over the fate of the legislation. 
On a day of dramatic developments leading to anti-climax, the Constitution  amendment bill for reserving one-third of seats in Lok Sabha and Assemblies was moved in the Rajya Sabha amidst uproarious scenes. Proponents of the Bill put the support for it at nearly 200 in a House of 245. 
Government's indication on the legislation came from Law Minister Veerappa Moily who told reporters after the day's adjournment that government does not not want to "bull doze" a Constitutional amendment.
After five adjournments, the House business was wound for the  day at 1800 hours  without the bill being taken up despite the government having the numbers to carry the legislation  through. 
Sources said government's ally Trinamool Congress leader Mamata Banerjee is also said to be concerned over the absence of quota for Muslims and OBCs and wants a "full" consensus on the bill.
The government appeared to have sensed ominous signals from the threat of SP and RJD, which have 25 MPs in the Lok Sabha, and the opposition from BSP, which has 21 MPs in the Lower House.
Taken together, without the outside backing of the three parties, the support for the Congress-led UPA may get reduced to a wafer-thin majority of just above the half-way mark of 272 in a House of 543.
In between uproar and adjournments in both the Houses, Prime Minister Manmohan Singh held parleys with senior colleagues including Pranab Mukherjee and met leaders of parties supporting the bill--BJP, Left parties, TDP and Trinamool Congress to devise a strategy. The government is said to have thought of pushing through the legislation for voting at 1800 hours without a debate to get over the disruptive MPs. 
But BJP and the Left parties insisted on a thorough discussion before voting.  BJP even said it would not not cast its vote if there was no no discussion since it was a Constitution amendment bill. 
While Pranab Mukherjee met Mulayam Singh Yadav and Lalu Prasad, Prime Minister met BSP leader Satish Chandra Mishra, who all conveyed their opposition to the bill without the sub quotas. 
The Congress core group, headed by Sonia Gandhi met late in the evening to devise a strategy amidst indications that the Prime Minister may call an all-party meeting tomorrow.