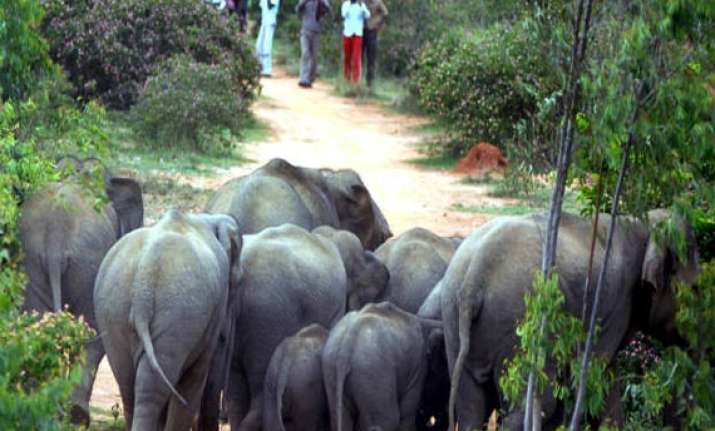 Bangalore, June 26: About 100 Karnataka forest officials succeeded in pushing back a herd of 15 wild elephants, who had strayed to the outskirts of the state capital in search of food and water, back into the forest across the Tamil Nadu border, a senior official said Tuesday.
"The wild jumbos finally relented, going back into the Neralur forest across the state border following an eight-hour long operation by our officers and guards that ended late Monday. We surveyed the entire area earlier in the day to ensure they didn't return again," Principal Chief Conservator of Forest Brij Kishore Singh told IANS here.
Expressing relief over the early return of the herd without any casualty or much damage to crops or paddy fields around Sarjapur village, about 30 km from the city, Singh said the operation was very challenging.
Staff had to wait for hours and goad the animals from a distance to move out of bushes and woods by bursting firecrackers and firing in the air to keep away from human habitat, he said.
"We are relived that they have gone back without harm to them or about 3,000 people who flocked to the area since early Monday to watch them and scare them away from entering their villages. We have deployed more guards along the elephant corridor and across the forest fringes to keep a watch on any jumbo movement," Singh said.
The forest staff had to first chase away hundreds of curious onlookers and villagers who gathered around the area earlier in the day on spotting the herd and tried to provoke them by shouting, screaming and throwing stones and sticks on them.
The herd, including four calves, strayed into the state forest June 22 along with another herd of 10 jumbos through the elephant corridor but broke away Sunday to first enter Malur village in Kolar district, about 80 km from here, and headed towards Hoskote in Bangalore Rural for water in Horohalli tank and food (bananas) in the nearby plantations.
"While the other herd walked towards Anekal and Bannerghatta forests along the corridor, this herd made way to Sarjapur early Monday as it spotted Huskur lake for water and lush green grass around for feeding. Though they did pose any threat to the people, they were wary of any attack from the mobs as they had to guard their calves," Singh pointed out.
Before straying into Sarjapur, the herd trampled to death four people, including a photo-journalist when he went closer to them, while the others were attacked when they tried to chase them away from their fields.
"We are soon launching an awareness drive to educate the people living on forest fringes to keep away from the wild jumbos or any wild animal and not to panic if they sight them straying out of the forest or their corridor in search of food and water. People can inform local police or alert our guards posted at a distance of every 20 km with a walkie-talkie if they see any such movement," Singh added.
The growing man-animal conflict surfaced again when the herd came out of the forest in the absence of their staple food (grass and bamboos) along their corridor and water bodies drying up due to drought for the last two consecutive years.