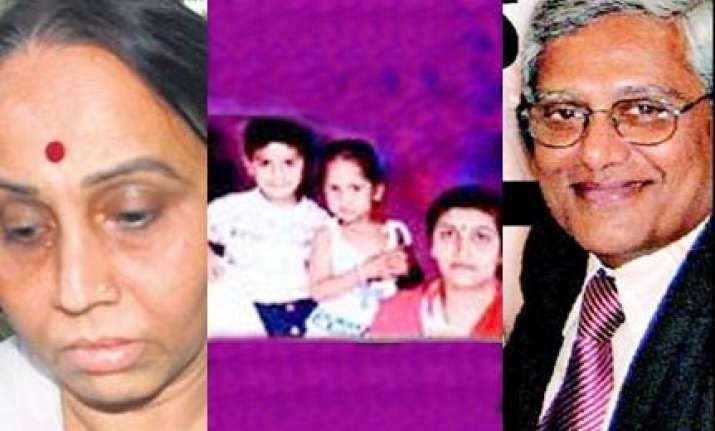 The post mortem report from J J Hospital, Byculla about the 14-year-old girl Hemini Mehta shows that she was shot by a single bullet in the back. The most surprising element was that Maroliya's wife Leena was sitting next to Maroliya, but she did nothing to stop him, says police, reports Mumbai Mirror.  
Marolia's wife told police she was in the kitchen when the incident took place and was unaware of anything till the cops barged in. The cops found half a cup of tea in the kitchen. Marolia fought with his neighbours and then abducted Hemini at gunpoint and took her to his flat. Cops said he rang his doorbell and banged on the door, after which his wife opened it.  
A police source said, "Marolia's wife is saying that she was in the kitchen and opened the door when she heard the bell. She saw her husband with the girl and assumed that he had brought her to show some leakage in the house that was aggravated by work upstairs. She returned to the kitchen and came out only when the cops barged in.''  
Cops said they are surprised that Marolia's wife couldn't hear him abusing people and firing his gun. They are also surprised that Marolia's wife did not intervene during the incident.
Additional CP (West Region) Amitabh Gupta said that according to investigations conducted by them, only one bullet was fired from the cops' side and that had hit Maroliya.
This bullet was fired by Beat Marshal Arun Kharat from the D N Nagar Police Station. He had accompanied a team of seven policemen, including members of the Combat Force, under ACP Dilip Suryavanshi. The team had reached the spot by 10.41 am and within 29 minutes the dramatic encounter at the Andheri building was over.
K M M Prasanna, DCP Zone IX, said, "Kharat and Suryavanshi were the only ones in the team not wearing bullet-proof jackets. It was brave of Kharat to act the way he did." Sub-inspector Vaibhav Patil from Oshiwara Police Station and constable Naresh Phalke were injured in the incident.
While Maroliya was holed up inside his apartment, Suryavanshi called out to him and tried to negotiate with him. When he refused to relent, Phalke broke down the door and all hell broke loose.
Maroliya began firing indiscriminately at the team and Suryavanshi was forced to duck for cover to save himself. A stray bullet whizzed past inches away from his eyes, and the 56-year-old ACP narrowly escaped death.
Patil and Phalke took two bullets each and the team retreated for a few seconds. When Maroliya stopped firing, the team flocked to the door again, only to see the 57-year-old man filling the chamber of his pistol with fresh bullets. An officer who was part of the encounter team said that's when the officer fired a shot. "It was the one well-aimed shot fired by Kharat that ended the encounter, as Maroliya slumped down. The police team then barged into the room."  
He added, "I wasn't sure if she was dead or alive. Maroliya was behind her. What puzzled me was that his wife Leena was sitting next to him, and she had done nothing to stop him. She wasn't even crying. We loaded Maroliya and Hemini into an ambulance."
Police later discovered that the girl had been shot in the back, while Maroliya had been shot in the shoulder. The bullet had then travelled in a downward direction.
Post-mortem reports revealed that the girl had been shot on the right side of her lower spine region. The bullet had been found on the left side of her body. On the other hand, Maroliya had an injury to his right shoulder. The location of bullets and the direction of fire proved that it was indeed Maroliya who had shot the girl. Prasanna added, "Police fired only one bullet that day, and it hit Maroliya."
Bullets from Maroliya's and Hemini's bodies have been recovered and sent to the Kalina forensic laboratory for a detailed ballistics examination to check the police claim.
A senior doctor at JJ Hospital revealed that there was a "grazed, contusion collar wound" around the bullet wound suffered by Moraliya suggesting that he was shot from a distance of about five to six feet. "The bullet hit his vital organs such as the liver, lungs and the kidneys," he added. The doctor added that there were minor wounds on Maroliya's face, possibly caused while struggling with the girl. The doctors have also taken a 'hand wash' of Moraliya, to establish whether he had actually fired the shots from his gun.
The doctor added that Hemini seemed to have been shot from the back and the bullet went through her vital organs like liver and lungs, and finally got lodged in her side.
Meanwhile, police are probing if Maroliya was suffering from any mental illness.  
Meanwhile, authorities at J J Hospital, Byculla, where the postmortems of both, the gunman and the hostage, were conducted, said a bullet was found in each of their bodies. Doctors remained mum on the origin of the bullets, a precise determination that would require further forensic tests.
A technique called comparison microscopy, conducted at the state Forensic Science Laboratory, Kalina, would be required to ascertain the sources of the bullets, said Dr S D Nanandkar, professor and head, department of forensic medicine, JJ.  
The clinical cause of both deaths has been listed as haemorrhagic shock due to firearms injury, which essentially means bleeding due to bullet injury.  
According to the post mortem report, Hemini was shot in the back. The bullet pierced the right side of her upper back and came to rest in the right side of the lumbar region, or lowest end of the spine, said Nanandkar.  
In the case of the gunman, a bullet hit his right shoulder, pierced through his chest and lodged itself in the left side of the chest region, Nanandkar said. Both bullets were recovered from inside the bodies.
The range from which the fatal bullets were fired remain to be determined. A lot of clues can indicate range, like blackening of skin. The position in which the gun was held is also significant. A detailed investigation will take another month or so, said experts.  
Nanandkar said that at least one centimetre of healthy skin from the area shot, from both the abductor and the victim, have been sent to the Kalina laboratory for ballistic examination.  
"We have also sent their viscera for further pathological examination,'' he said. Nanandkar said that samples have been saved for histopathology to throw more light on the health of the deceased.  X-rays of both the bodies, a common protocol in firearm injury cases, made it easy to locate the bullets.
On Friday, society members boycotted the family and did not allow them to bring Maroliya's body inside the building. After a post-mortem at JJ Hospital, his last rites were performed at a cemetery in Santa Cruz.
Security guards have been deployed at the building's entrance and they have been instructed to check the credentials of anyone trying to get in. "The fear is palpable," Romil Patni, son of the building's general secretary, said. "We are all shocked. It will take some time for things to become normal."
Several visitors, including policemen and relatives, gathered at the Mehta household after Hemini's body was brought in the morning. Her last rites were performed at the Oshiwara cemetery. The media was not allowed inside the building though.
"We knew Maroliya was hot-tempered," a resident said. "But no one imagined he would shoot dead someone."
57-year-old Harish Maroliya's elder daughter Deepa Calcuttawala however  finds it difficult to reconcile to the reality.
Sobbing inconsolably, she questions the accusations heaped on the man she idolised, and the reports that make her father look like the monster she claims he never was.
At her Santacruz residence, surrounded by grieving family, Deepa Calcuttawala says, "I haven't read the papers, but know about the jibes. Nobody tried to check with us before making my father look like a mad man." Residents at Saujanya Society claim to have seen a distraught Maroliya walk around the compound in his customs officer uniform.
"If he was crazy, so am I. All that I have learnt in my life was from him. He just wanted to reach out to people in whatever way possible."
Deepa is not ready to believe that her father could have killed an innocent girl. "It was an unnecessary death. I don't know how it happened. All I know is that my father was a very responsible member of the society who loved kids. Do you think a man with two daughters can ever do such an irresponsible thing?"
Her passionate defence is also as someone inspired by his ideology. "A keen photographer, journalist and a student of law, my father was a revolutionary who wanted to change things in the larger society. And he would go to any extent for this, even if it meant taking on the entire world single-handedly. That's what he taught us when we were growing up: to stand up for the right things, against all odds," she adds.
Something that often saw him embroiled in pitched battles with his neighbours over issues both small and significant. "He knocked on every door to fight for justice. Even when no one listened to him, he didn't give up. He was one man pitted against them all. Maybe he was pushed to the wall," says Deepa, breaking down once again.
Even as her family members tell her to hold back, Deepa insists she wants to speak up, making a conclusive remark about the profound influence Moraliya had on his family. "Do you know what my mother told me when I met her after my father's death? She said, 'He is dead, but he has put on me the responsibility of bringing about the changes he fought for.'
An overbearing Harish Marolia, who felt he was not getting the special treatment he deserved for being an ex-Customs officer, last month sent the governmentrun Institute of Forensic Science a letter saying he wanted to quit its course and asked for a refund of his fees..
On Friday, a day after Marolia, 57, took a 14-yearold neighbour, Hemini Mehta, hostage in his society and reportedly killed her in his flat, before being gunned down himself by the police, a picture emerged of a man often at war with his neighbours and others over several issues.
Marolia had enrolled for the one-year, post-graduate diploma course for Digital and Cyber Forensics at the government-run Institute of Forensic Science in Mumbai for 2009-10. Sources said he wanted special treatment in class and even wanted the institute's authorities to allow him to lecture the class on the Customs. When he was refused, he told the institute to return his fee of Rs 6,000, which he had paid for the year.
Technical adviser at the institute and former director of the state Forensic Science Laboratory, Rukmini Krishnamurthy, said Marolia was always very pompous in class and tried to show his seniority and dominate everyone. She said, "He created problems and sometimes even told the lecturer how to teach the class.'' Marolia attended classes regularly for a few months, since August, before starting to create problems for the lecturer.