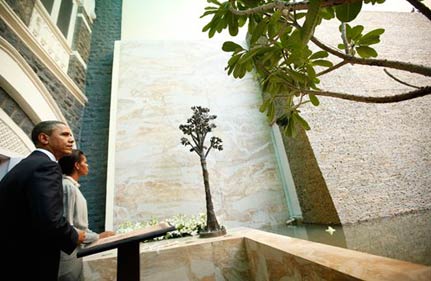 BJP today expressed disappointment over US President Barack Obama making no reference to Pakistan on the terror issue in his first speech on arrival in Mumbai while the CPI found this "not surprising", accusing the US of adopting double standards.
"It was the first address by the US President at a place (Taj Hotel) which saw the biggest terror attack on India.... It was a complete disappointment as the world and the United States had proof that the attack was planned on Pakistani soil by its intelligence agencies. He had words which were not backed with action and intent," BJP spokesperson Rajiv Pratap Rudy told reporters here.
He said that by skirting a direct reference to Pakistan, Obama "missed" an opportunity to strike a chord with Indians.
The core group of BJP would tomorrow meet at the residence of party veteran L K Advani to decide on the talking points between Obama and Leader of the Opposition in the Lok Sabha Sushma Swaraj who would be meeting him on Monday, he said.
Reacting to Obama's speech at the Taj Hotel, CPI National Secretary D Raja said,"It is not at all surprising. The US pursues double standards. When it is attacked, it takes one position. When any other country is attacked it takes another stand. Our government should take note of this."
He said the arrest of LeT activist David Headley in the US and his interrogation had revealed that Pakistan's soil was being used by various terror outfits to carry out their activities.
'Avoiding any mention of that shows that the US President is continuing to pursue that double standard," Raja said.
The BJP said there are basic contradictions in the statements made by Obama before his visit to India and the statement of Foreign Secretary Nirupama Rao.
While Rao had said that the visit was aimed at improving overall relationship between the two countries, Obama in fact was carrying a "business wish-list" with him, said Rudy.
India's foreign policy vis-a-vis the United States has been swaying back and forth during UPA I and UPA II, pakistan, he said. PTI