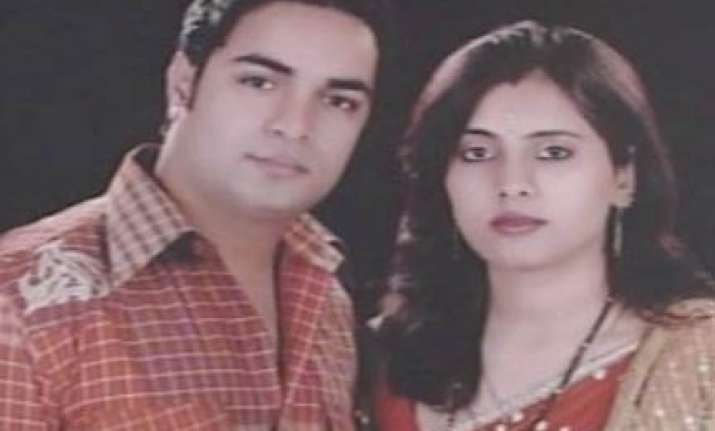 With the arrests of the three main suspects in Delhi's notorious Ashok Vihar triple murder case, the heat is off on Mandeep's sister Khushboo and her husband Ravi, but the moot question is: where are Khushboo and Ravi at the moment?Nobody has seen Ravi Kumar at the address given in his ID proof. Khushboo's father is skeptical about her well-being.
18-year-old Khushboo was married to 30-year-old Ravi at an Arya Samaj temple on May 27. The records at the temple show that Ravi had submitted photocopy of his driving licence as ID proof. The address was : House no. 85-A, Humayunpur village near Safdarjang Enclave, Delhi. Nearly six tenants stay at this address but nobody has seen Ravi.
One neighbour Chaudhary Jagat Singh has an office near this address. He says, he has never seen Ravi Kumar. The building is owned by Harish Singh who died in an accident a year ago. Says Jagat Singh: "Several policemen came a few days ago and showed this youth's photograph, but nobody has seen him. The police went away empty-handed."
Residents in Wazirpur village say, the immediate provocation for the killings was Khushboo's revolt. Khushboo is missing from her house since May 25.  Her father Jai Singh had lodged an FIR in Ashok Vihar police station, naming Ravi Kumar. Later police came to know that Khushboo and Ravi had married at an Arya Samaj temple on May 27. It was then, say police, that the trio decided to kill Kuldip, Monica and Shobha, but Khushboo escaped.
Though police claims that it is in touch with Khushboo and Ravi, but after reports came in about policemen looking for Ravi in Humayunpur, the police version appears to be suspect.  
Ravi Kumar is a resident of Udhampur near Jammu. He used to work in a used car business with one Deepak Jain in Karol Bagh. He had given an ad for modeling in a newspaper, after which Khushboo came in touch with him and fell in love.