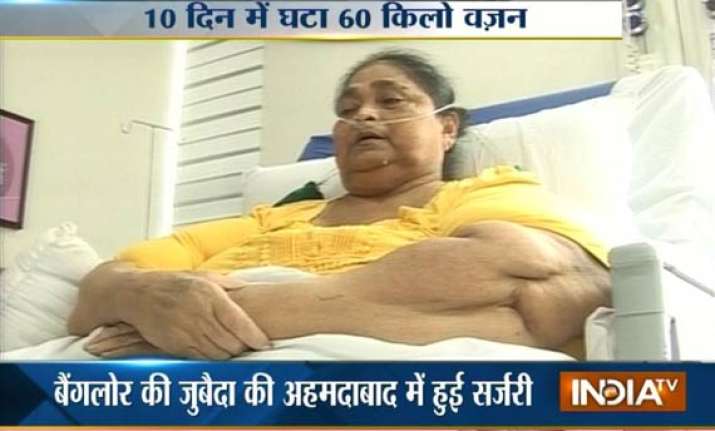 New Delhi: There is a famous saying 'doctors are messengers of God' and this is indeed because of their primary job to save the life a person. The story of 60-year-old Zubaida is not less than a miracle.
Zubaida, who was struggling to reduce her weight and lead a normal life, was given a new life by doctors at a Ahmedabad hospital. Her 260 kg weight proved to be a curse for her. She was pushed to stick to her bed only.
When Zubaida's family members came to know about the deterioration of her health, they admitted her to a Bangalore hospital. Doctors here assured to provide better treatment but after one-and-half month, doctors said the health of Zubaidda is worsening and they can't deal with the situation anymore.
Later, her family members came to know about Ahmedabad based Asian Bariatrics Centre. Doctors here assured Zubaida's family members that she can lead a normal life once Bariatric surgery is performed. But shifting Zubaida from Bangalore to Ahmedabad was a difficult task for her family. Air ambulance service providers in Bangalore refused to fly her to Ahmedabad. Finally, Zubaida was kept on the ventilator support and the distance of 1,500 km from Bangalore to Ahmedabad was covered via road.
As soon as Zubaida arrived at Asian Bariatrics Centre, a team of 20 doctors started monitoring her condition. After 20 days of surveillance, doctors decided to performed Bariatric surgery. The operation was successful. With the help of this surgery, doctors reduced Zubaida's weight by 60 kg.
What is Bariatric surgery
Bariatric surgery is a kind of surgical treatment that includes a variety of procedures performed on an obese person. Weight loss is achieved by reducing the size of the stomach with a gastric band or through removal of a portion of the stomach.